Carrie, 11 NOVEMBER 2010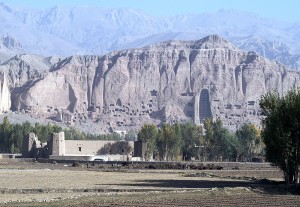 I have just returned from a break at home with my family. I find being away from them one of the hardest challenges of living here. When I do see them it's often difficult to fully explain life in Afghanistan. Unless you've been here it's hard to imagine, and the images shown in the media often don't reflect the country as a whole.
My mum and sister organised a Christmas dinner while I was back as I won't be home for Christmas. A nut roast (I don't eat meat) and all the trimmings – it was really lovely. And I got to hear about my nephews' latest sporting achievements and school plays.
It is great to go home but it can feel like a whole world away from Afghanistan. It is exciting to hear my nephews talk about their futures, but it makes me think of the children I have met here.
I went to Bamiyan in northern Afghanistan recently, which is most famous for the giant sixth century Buddhas destroyed by the Taliban in 2001. While I was there I visited a school built by the government through a programme called the National Solidarity Programme.
It's a really successful programme that operates in over 17,000 communities in Afghanistan. The idea is that local councils are created to make decisions about their own community's needs. Then the local government provides the funding and support to enable the community to build these basic services. I've seen clinics, wells and many other projects built through this programme. One thing all the communities I have visited share is real pride in what they have built.
This little boy (above) in Bamiyan is the son of a potato farmer. When he's old enough he'll be able to go to the school we visited along with the other 3000 pupils enrolled. He'll receive an education that his parents were not able to have.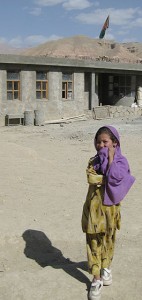 Education is actually a big success story for Afghanistan. Today the Ministry of Education says that 5.3 million children are in school in Afghanistan, over a third of which are girls. Considering only one million children were in school in 2001 I think that's pretty impressive.
But getting to go to school is only the first step forward for this young boy's future.
Next perhaps he'll want to go to university or train for a vocation. These are two areas that the Government of Afghanistan has identified as in need of additional work and they are looking at how to do this right now.
Then he'll need a job. So boosting the economy and attracting industry is another vital piece of the puzzle.
It's a complex series of improvements that need to be made to ensure that this boy gets the opportunities that my nephews get back in the UK. And this country is probably someway from that. But it is on the right track and hopefully current efforts to build the peace will help quicken the pace.
Afghanistan remembers
At 11am today services took place across Afghanistan to remember British men and women who have lost their lives serving for their country.
At the British Embassy in Kabul wreaths were laid, speeches were made and the last post sounded.
Since 2001, 343 British military personnel have lost their lives in Afghanistan.
They will not be forgotten.
________________________________
Source: http://blogs.dfid.gov.uk