Friday 11 March 2011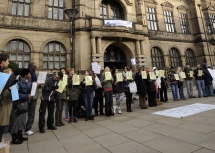 CAMPAIGNERS staged a vigil outside Sheffield Town Hall in support of young asylum seeker who is due to be deported to Afghanistan – a country he has never been to.
Reza Yosefi, aged 20, who lives in Pitsmoor, has been in Sheffield for four years. His parents were born in Afghanistan but Reza grew up in Iran, and has no friends or family in Kabul or the rest of the war-torn country.
Last year Reza narrowly avoided deportation after the European Court of Human Rights made an order blocking the UK Border Agency from putting him on a plane. But now he has been taken into detention again and is due be flown to Kabul next Wednesday.
Campaigner Marishka Van Steenbergen said:
"Reza has never had a choice about where he lives. He was sent to this country by his family, as he had no opportunities for a normal life as a refugee."
"Sheffield is the only place where he has experienced a childhood, where he has been able to study and make friends."
"Now Reza can give back to Sheffield the little bit it has given him."
Source: http://www.thestar.co.uk
In this article