By Aziz Froutan
DAIKUNDI PROVINCE, Afghanistan, 19 August 2010 – Kamela, 15, lives in the Shahristan district of Afghanistan's Daikundi province – a remote mountain area of the country's central region. In an unprecedented journey, she recently travelled eight hours on foot and by car to reach Nili, the provincial capital, to participate in an innovative training session for young people.
"I was very excited when I heard about the training," said Kamela, referring to a UNICEF-supported Psycho-social Counseling Training, which was organized by the Youth Information and Contact Center (YICC) in Nili.
New opportunities
Daikundi is a priority area for UNICEF, as it has been marginalized for many years and does not have strong international or national non-governmental presence. The socio-economic indicators for the area are poor, especially those affecting the women and children. However, it is one of the few safe areas in Afghanistan with strong community commitment and participation.
The four-day Psycho-social Counseling Training workshop in Nili is funded by UNICEF with technical support from the United Nations Population Fund. About 30 girls and boys are attending. During this workshop, young people discuss common psycho-social problems, receive counselling for family conflict and gender violence and learn useful support skills.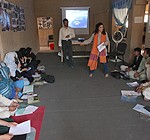 It is also a unique opportunity for Kamela to interact with girls and boys her age.
"Before the YICC was established there was nothing for us," said Jamludin, 19. "Many young people are addicted to drugs. Take a look around – most young people are jobless. They should have a job or an occupation. But there are no opportunities in Daikundi."
Marginalized youth
Afghanistan's children and youth under the age of 25 comprise more than 65 per cent of its population. Yet young people are generally disenfranchised, lack educational and employment opportunities and rarely participate in decision-making at the community, provincial, or national level.
"There are no internet clubs, no sport clubs, and no official library," said Youth Department Director Mansour Ghulami. "It took a while to activate this youth centre, but we are slowly progressing, and I hope we can do more to improve the situation."
Since the opening of the YICC in September 2008, 80 young people have completed a four-month-long computer course and 350 have completed a course in intermediate English. The YICC has also established federations for youth in remote areas in order to facilitate the discussion between young people. In these federations, boys and girls gather to talk about their needs and problems and try to find solutions.
Tangible progress
Most of Daikundi's population of about 500,000 live in extreme poverty, and the vast majority of children under 18 work in farming or shepherding for a low daily wage to supplement the income of their families.
UNICEF-supported Youth Information and Contact Centres aim to empower young people to make informed and responsible decisions about their lives. By providing fast and easy access to a wide range of information in an informal, supportive and interactive environment, they enable young people to take advantage of opportunities, develop their skills and abilities, solve their daily problems and actively participate in society.
"If these youth centres existed in our [home] district, parents would bring their children," said Sediqa Sharifi, 18. She is excited about her first visit to the YICC in Nili.
And not least of the strides made by the YICC is the growing membership of a particularly under-represented youth group: girls.
"There were only 10 girls in this centre in the beginning," recalled Jamuldin. "But now around 300 girls are members. This is a real progress."
Source: UNICEF
In this article