The union which represents staff at Darwin's Immigration Detention Centre says asylum seekers were able to break out even though the electrified perimeter fence was turned on.
The union says a small number of staff employed by the private company Serco were outnumbered when more than 80 asylum seekers broke out in protest against their detention yesterday.
Hazara asylum seekers staged a peaceful roadside protest after breaking out of the Darwin detention centre.
Fifteen Afghan asylum seekers were treated for dehydration and heat exhaustion in Royal Darwin Hospital last night after spending more than seven hours protesting outside the centre.
Liquor, Hospitality and Miscellaneous Union (LHMU) spokesman Matt Gardiner says detention centre staff have told him the asylum seekers were easily able to knock down the electric fence.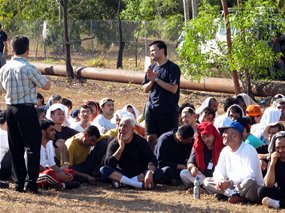 He says two staff have already been hurt during rioting in the centre over the last three weeks and staff are unable to lock inmates down as would happen in a prison.
"Contrary to what's been going out in the media, the fence wasn't turned off, the fence was actually turned on," he said.
"But the voltage is actually used in the fence as a deterrent and as far as I'm aware, some people wrapped up cloths, which would deaden the pulse, and they just pushed through the fence."
Mr Gardiner says staff were very worried by the negative reaction from many in the Darwin community to the asylum seeker protest.
"I'm appalled for the sheer fact that some of the comments that have come out are so ill-informed and so racist and so inflammatory. It's not going to make the situation better," he said.
"We would like to have a big collective deep breath and count to 10 because the sheer fact is people will get hurt if we keep on in inflammatory mode."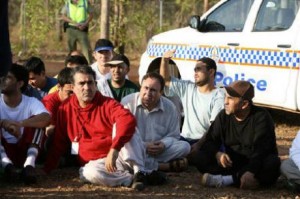 Refugee advocates say Australia's treatment of asylum seekers sank to a new low yesterday when authorities refused to give the protesters drinking water.
Asylum Seeker Resource Centre spokeswoman Pamela Kerr says not supplying the protesters with water was despicable.
"While the police were handing out bottles of water to each other, those men were sitting in the hot sun with no water and when I asked the police: 'Please give them some water', they ignored me," she said.
"Is there any other group in Australia that our government could be sanctioned with denying food and water except asylum seekers?"
Immigration Department spokesman Sandi Logan maintains the centre is capable of detaining asylum seekers.
ABC News