September 08, 2010:
The head of Afghanistan's independent Human Rights Commission says that any peace talks with Islamic insurgents must be held in a way that does not "undermine human rights and justice" under the "pretext of peace efforts," RFE/RL's Radio Free Afghanistan reports.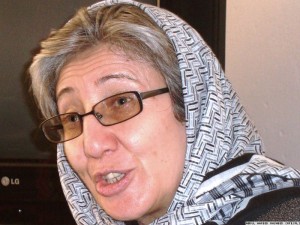 Commission chairman Sima Samar told RFE/RL on September 7 that any peace process that does not represent the people of Afghanistan, especially its women, will not "last long."
Samar said her commission sent a list of women to the Afghan government who it recommends be chosen as members of a High Council for Peace that was announced by Afghan President Hamid Karzai on September 5.
Samar said, "I hope that they would select [those women] to take part in the potential peace talks [with the Taliban]." She said if women are "ignored and disrespected" then it would be a "prison for them" rather than a peace process.
The High Council for Peace was first proposed during the Kabul Peace Jirga on June 2. Afghan delegates at that time agreed to form the council, which would be responsible for trying to reach out to Taliban insurgents.
Karzai spokesperson Siamak Herawi told RFE/RL by phone that the council would have nearly 60 members, including Afghan women. Herawi added that the names of the members of the council would be announced in the coming weeks. It is expected to include "Jihadi leaders, influential figures, and women."
Karzai called the establishment of the council "a significant step toward peace talks." Taliban leaders have thus far rejected the idea of holding talks with the government as long as foreign troops are in Afghanistan.
Source: http://www.rferl.org
In this article