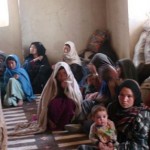 An untold catastrophe in Afghanistan is underway. There has been mass displacement and forced-migration of Hazaras from Uruzgan Province recently. Though the Hazaras, who are in minority in Uruzgan Province, have faced brutal experiences from Taliban in those areas since the rise of insurgents a couple of years ago, but the situation is getting appalling after a recent incident. In the last week of June, Taliban beheaded 11 Hazaras in Khas Uruzgan area of Uruzgan. Among them were 3 distant family members of the Editor of Hazaristan Times. This incident was reported by Rueters, but no major international media outlet gave coverage. Mention it not that local TVs and newspapers in Kabul did not know about this incident. It is an example of how the untold stories of catastrophe the Hazaras are facing in Afghanistan go unreported. The Government of Karzai is making efforts for reconciliation with Taliban. Recently hundreds of Taliban have been released from Bagram and Pul-e-Charkhi prisons. According to HTimes sources in Uruzgan, a Taliban commander who was recently released from Bagram was behind the carnage of innocent Hazara civilians in Khas Uruzgan.
There are several such untold stories that has happened, but gone unreported. Two weeks ago, a Hazara man named Naurooz was beheaded by Taliban in Sai Ganj area of Ghazni. He was from Nahoor District of Ghazni, and on the way for business travel to Ghazni city. About a month ago, 10 Hazara from Jaghori district of Ghazni were beheaded by Taliban in Ghazni. They were mostly students on their way to homes for summer vocations from Kabul. Taliban kidnapped them in Muqur area and found student ID cards from them. They were all slaughtered. Hazaras in Qarbagh and Jaghori districts of Ghazni have been under constant threat from Taliban with several incidents of carnage. They have warned Hazaras to close down girls school and supporting the Government and international troops. Afghanistan Analyst Network has this report about the catastrophe, making people to migrate and leave behind their ancestral homes and lands. The roads of Jaghori and Qarbagh are off and on blocked by Taliban pressuring people to either stop girls schools, leave the area or face Taliban!
After the incident of Hazara beheading in Uruzgan, for several weeks Hazara villages around Khas Uruzgan and other districts were isolated making no communication and travels. They were under an economic-blockade of supply and people could not travel. This appalling situation is now causing a mass migration of Hazaras from their ancestral lands in villages of Baghu-Char and surrounding areas. Thousands of displaced people have made it to nearby districts with Hazara majority, leaving behind their lands. And the worst is that, the catastrophe is not making a news on media outlets. But it has rang the bell of danger across Hazarajat. Local Hazaras of Uruzgan have already started a mass migration to other provinces.
Other than Qarbagh and Jaghori districts of Ghazni, Taliban is also showing up with night-letters' warning in Nahoor District of Ghazni. They were already asking Hazara vehicles from Jaghori and Qarbagh for tax. Now they are warning the people in Nahoor District to close down girls schools and pay Sharia taxes to Taliban, stop cooperating with the Government and American/NATO forces.
The Hazaras have always been treated as slaves throughout the centuries of brutality in Afghanistan. The 18th century massacre of Hazara by Abdul Rehman marked the worst mass-displacement, migration and massacre of Hazaras. About 62% of Hazaras were forced out of their lands in Kandahar, Uruzgan and Zabul provinces under the brutal rule of Abdul Rehman. Taliban reminded Hazaras of the Abdul Rehman era a decade ago, when thousands were cold bloodedly massacred in Bamyan, Mazar-i-Sharif and other provinces. Today history is repeating itself, this time not under Abdul Rehman, but in the presence of American forces and NATO countries. Hazaras are paying the price for democracy at the cost of their ancestral lands, making mass migrations due to their 'guilt' of cooperating with American and NATO troops and adopting democratic values. But worst of all is that despite the incident of Hazara beheading that has led to current mass migration in Uruzgan, was reported by a western news agency–Rueters–no international media outlet is giving coverage to the catastrophe happening. Hazara have yet to fill the archives of their tragic history with more forced-displacements and massacres. After a decade of democracy and presence of American/NATO troops in Afghanistan, yet the time has not come for Hazaras to enjoy peace and the right of existence!, far from the prospects of equal rights.
The corrupt Government of Karzai is making no effort to stop this catastrophe. The President is rather releasing Taliban from Bagram and other prisons, who go back to Uruzgan, Kandahar and Zabul to join insurgency.
The international troops led by the US has increased the dangers for Hazaras in Uruzgan with their temporary military operations against insurgents, and compromises most of the times. And now President Obama, as revealed in the latest book by Woodwards, is more focused on getting out from Afghanistan as soon as possible, through strategies that no matter cost massacre of Hazaras or make them to leave their ancestral lands.
In this article