Bamyan: Hundreds of Bamyan residents covered the two-kilometer paved roads of the province with clay in protest against the biased attitude of Karzai in the distribution of funds and reconstruction projects.
Large numbers of people collectively worked to clay the road, the only stretch of paved road in the entire province, constructed last year by USAID.
Bothered by the lack of reconstruction, a participant told Hazaristan Times, "We will start the reconstruction of our province voluntarily, no matter how long it takes."
He continued, "Karzai is prejudiced toward our province. He has been making fake promises of building our roads and providing electricity to the provincial capital, but has met none of them. We have the spirit to build our province because international donors work and distribute funds on political basis."
Talking to Radio Bamyan, Governor Habib Sarabi said, "I have been trying to get some fund for reconstruction of roads in Bamyan city, but haven't been able to."
Bamyan is the most peaceful province of the country, where more than half the population lives below the poverty line. The far-flung highland province suffered the worst of the Taliban when thousands of people were slaughtered. Today, after seven years of international efforts, residents of Bamyan complain of the lack of reconstruction — and of bias in allocation of funds.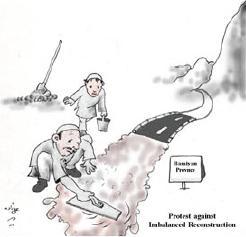 The residents' concerncs seem to be legitimate. Recently, $328 millions was approved for reconstruction projects in Helmand, the Taliban stronghold, where 80% of world poppy is cultivated. Bamiyan has yet to see such huge allocation of funds.
MPs in the Provincial Assembly of Bamyan say international funds are distributed on political basis. Foreign aid organizations such as USAID or CIDA work in the areas where they have military presence.
Follow Voice of Criticism for the socio- political updates in Afghanistan
Visit Deedenow Cinema for the updates on Afghan Arts and Cinema
Follow KabulPress for the latest analysis and reports about Afghanistan and the region
In this article