By Lyse Doucet
BBC News, Kabul
At a sports centre in the heart of Kabul, the sound of fighting rings out night and day. But this isn't the war that has torn Afghanistan for the past three decades.
Kabul's new warriors are taekwondo fighters. In this ancient martial art of kicking and punching, one of the newest stars is 23-year-old Rohullah Nikpai – the first athlete in Afghan history to win an Olympic medal.
"Each time I kick, I make sure I do it as well as I can," the young Nikpai explains. "I'm happiest when my training goes well and I achieve something good for my country."
The centre, a concrete block of a room, echoes with the sharp slap of bare feet hitting plastic pads. Some two dozen young men in track suits practise kicking drills, punctuated by determined cries of battle.
In any other country it would be the most ordinary of days at the gym. In Afghanistan, it is a poignant reminder of what even a bit of peace can bring – an all too rare place where young men can focus their energies and where they can even dream.
When Nikpai won a bronze medal in the Beijing Olympics in 2008, it was a golden moment for him, and for Afghanistan.
"When our plane touched down in Kabul it was an amazing moment to see so many of my countrymen and women at the airport," he recalls with a wondrous look, still savouring the moment when he became a national hero.
Afghans poured into Kabul's Ghazi stadium to celebrate where, not much more than a decade ago, the Taliban notoriously stoned women to death.
"It was unbelievable," marvelled Mirwais Bahawi, a member of Afghanistan's Taekwondo Federation who was providing live commentary from Beijing for Afghan television.
"Afghans were watching it on TV in more than 17 provinces. Everyone was praying for Rohullah Nikpai and then, happiness blossomed!"
At Nikpai's family home in Kabul, a traditional mud brick bungalow inside a walled compound, a cabinet bursts with bright ribbons and shiny medals, including Afghanistan's highest national honours conferred on him by the President, Hamid Karzai.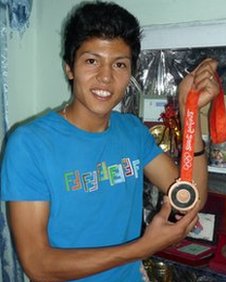 "I like all my medals but now I hope to win gold in London 2012," he declares, adding a customary "insh'allah" – "God willing". He holds his treasured red ribboned Beijing bronze in his hands.
But for all the new brightness in his life Nikpai, like most Afghans, still lives with the dark legacy of war that has scattered his family far and wide.
His twin sisters and some cousins visiting from Canada join us as we sit cross legged on a carpeted floor to enjoy fragrant rice sprinkled with berries and saffron. Nikpai ended his refugee life in Iran several years ago but much of his extended family still lives outside Afghanistan.
Even his fiancé is living in Canada. He beams with happiness when he recounts how she called him in Beijing after his victory.
Two years on from that day, the shy, slim Nikpai is still greeted with admiring looks and warm embraces wherever he goes.
"I like to see friends and fans but its hard to keep stopping when I am working and on deadline," he confesses.
"I think Nikpai is a very good athlete and also a good neighbour. He is friendly with everyone," remarks one Afghan who stands with a gaggle of young men who stop to watch their local hero walk down a narrow lane from his home.
At a gleaming Kabul barber shop adorned with posters of footballer David Beckham's array of haircuts, Nikpai gets his barber to fashion his own look: a bit of height on top; close cropped on the sides; sealed with an expert swish of hair gel. The barber tells us it's the new "Chinese style."
"No," Nikpai quickly corrects him with a mischievous grin, "its Nikpai style," his style even before he became a champion.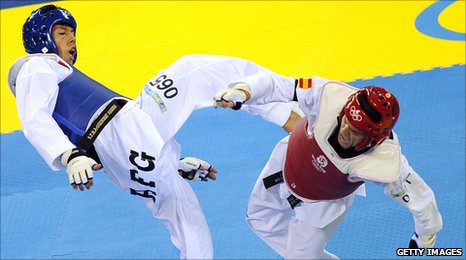 After the years spent in Iran, Nikpai's style is now firmly rooted in Afghanistan. And he is keen to stay despite suggestions that he could benefit from better facilities and coaching elsewhere.
"I don't think we need to go abroad for training," he says. "Our athletes are good and we are getting ready for the next competitions."
Their training centre benefitted from support from Korea, where taekwondo originates, with a gift of equipment including chest guards and other protective wear.
"No one is helping us now," regrets Mirwais Bahawi from the Afghanistan Taekwondo Federation. But he says they will approach countries like Korea, and Japan, as well as Britain for some assistance in the run up to the London 2012 Games.
As we watch Nikpai and his fellow athletes I remark to Mirwais Bahawi that it must be difficult to be an Olympic athlete in a country still at war. He answers with a trademark Afghan nonchalance.
"It's hard," he admits. "But it's easy for Afghans."
Through the door, we can see Nikpai, his back bent, as he pauses for breath in a demanding training regime. Across his T shirt, "Afghanistan" is embossed in bold bright print.
________________________
Source: http://news.bbc.co.uk
In this article