Ben Farmer in Kabul, 03 Nov 2010
The British Museum will exhibit a hoard of ancient Afghan gold jewellery after Kabul today signs an agreement loaning the treasure to Britain.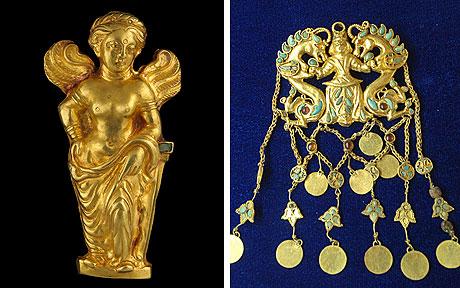 The discovery of the Bactrian Hoard in a burial mound in northern Afghanistan is considered one of the greatest archaeological events of last century.
The collection of 21,000 pieces of finery buried by Afghanistan's nomadic ancestors was feared looted from Kabul or melted down during the 1990s as the country endured civil war and Taliban rule.
Its rediscovery, hidden in 10 tin trunks in a bank vault inside the presidential palace's grounds after the Taliban had left, was a source of national pride.
Examples will now go on show in Britain for the first time in an exhibition called: "Afghanistan: Crossroads of the Ancient World," from next spring.
Sir William Patey, British ambassador to Kabul who will witness the agreement, said: "There's an incredible story attached to these beautiful artefacts – saved from destruction during the civil war and the Taliban regime and hidden in secret vaults in Kabul.
"It's fantastic news that they're going to the British Museum in the spring."
Soviet archaeologists discovered the gold in 1978 in a low barrow-like hill close to the town of Sheberghan.
The hill's six burial chambers yielded a dazzling haul of gold and bejewelled crowns, pendants, scabbards, statues, bridles and coins which had lain untouched since around the time of Christ. Some of the gold dates to the sixth century BC.
The kingdom of Bactria had straddled the ancient trade routes of Asia and been conquered by Alexander the Great in the fourth century BC.
Scholars value the hoard for its mixture of influences from nomadic Siberian horsemen, India, Iran and classical Greece.
______________________
Source: http://www.telegraph.co.uk