November 12, 2010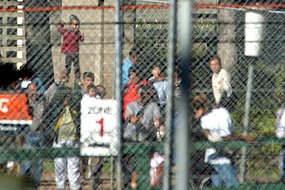 Federal Immigration Minister Chris Bowen says the Government could respond to the High Court ruling on asylum seekers by streamlining the current review process, or making it more robust.
The court ruled unanimously that two Sri Lankan asylum seekers who arrived by boat last year were denied procedural fairness under the Migration Act because of where they were held.
Before yesterday's decision, asylum seekers who arrived by boat and were sent to offshore processing centres like Christmas Island were denied access to the courts, unlike those who arrived by plane or those who had overstayed their visas.
The implication of this finding is that the way is now open for many more asylum seekers to take their case to the High Court rather than the limited appeals process currently available.
Opposition immigration spokesman Scott Morrison told ABC 1's Lateline program that could create gridlock and chaos.
"I think the High Court has called it as they've seen it, as they have every right to do, but there are terrible consequences, both for the taxpayer, both for the integrity of our system," he said.
"What we don't want to see is a return to the bad old days when people game the system, where they come and they seek to make appeals endlessly in order to protract their stay in Australia.
"And sad to say as a result of this judgment, and without any genuine action taken by Chris Bowen, that's what's going to happen."
Immigration Minister Chris Bowen told ABC 1's 7.30 Report the ruling might mean people are detained longer while they wait for court rulings.
"It certainly does mean that the length of time for some people in detention, if they take up their appeal rights, would be lengthened," he said.
But he said he has advice appeals would go straight to the High Court.
"The High Court would be the relevant jurisdiction and they could be appealed, in some cases, to the full bench. But it's not as if it opens up, necessarily, the options for court shopping," he said.
Mr Bowen says it is too early to say how the Government will respond to the decision, but there are several possible options.
"What we need to do is to assess for example whether we need to have a more robust refugee assessment process, an independent merit review process, so the chances of appeal for matters of procedural fairness are minimised," he said.
"Or whether we need to streamline the current system further to reduce the amount of time it would take to get to appeal."
One hundred and forty five asylum seekers are directly affected by the ruling, but it could have an impact on another 1,000.
Mr Bowen said he has been advised the High Court ruling does not apply to past asylum decisions.
He also said he is confident the ruling has no implication for the Government's plans for a regional processing centre for asylum seekers.
Source: http://www.abc.net.au
In this article