By TIFFANY CRAWFORD, Vancouver Sun November 19, 2010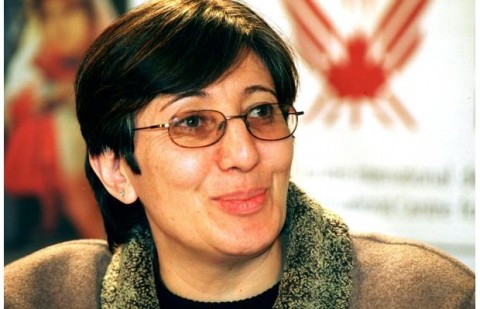 ____________________________________________________________________
METRO VANCOUVER — Burkas are causing health problems for women in Afghanistan because their bodies are not absorbing enough vitamin D from sunlight, Dr. Sima Samar, chairwoman of the Afghan Independent Human Rights Commission, told students at Richmond's Hugh Boyd secondary school Friday.
The human rights activist, who has risked her life to help women in Afghanistan and Pakistan, speaks again Saturday night at the Chan Centre for the Performing Arts.
Samar, who founded the not-for-profit Shuhada Organization, which helps Afghan women and children gain access to medical care and education, said many women who were forced to wear burkas under Taliban rule and who were often locked away in their homes, rarely venturing outside, now suffer from diseases caused by a lack of vitamin D, such as osteomalacia, which softens the bones.
While educated women were the first to stop wearing the enveloping garment after the Taliban regime ended, many still wear it out of a sense of duty or because of traditions that women are meant to be seen only by their husbands.
"The problem is when they are forced to wear them," Samar said. "When they choose to wear them, then this is something different."
Students at Hugh Boyd were shocked to hear Samar's stories about abuses suffered by women when the Taliban came into power in 1996. Girls were forced to marry at young ages, sold by their fathers at age 10 to 12, locked away at home and forbidden to venture outside without a male chaperone. The regime closed schools for girls and women were often referred to as "dirty." They were forbidden from raising their voices or wearing shoes that made a noise when they walked.
"I couldn't believe about the women and the burkas and how it was not their choice," said Grade 12 student Allizon Clark. "They didn't have actual schools but religious schools and (the Taliban) would even just kill teachers at the schools."
Samar said violence committed against women included being raped by soldiers and being whipped by the Taliban for showing an ankle in public.
"You're lucky. You have the privilege of freedom," said Samar, who in 1982, became the first Hazara woman to graduate with a medical degree from Kabul University.
"Her speech was inspiring," said Jaelem Bhate, 17. "I think it is more about raising awareness, knowing about the atrocities that happen in other parts of the world because in our community we are not exposed to as much warfare as, say, in Afghanistan."
Samar said: "Yes, we are divided by colour or countries, but we are human and we need to support each other to have a better environment and a better planet, free from violence."
Samar fled to Pakistan in the early 1980s and worked there for 17 years as a doctor, as well as helping Afghans in refugees camps.
Tickets for Samar's speech tonight, at 8 p.m., cost $22 and can be purchased through Ticketmaster.
ticrawford@vancouversun.com
Source: http://www.vancouversun.com
In this article