By Mukesh Sharma
BBC Hindi service in Guangzhou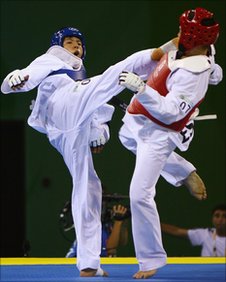 Afghan taekwondo fighter Rohullah Nikpai's Asian Games run is over but defeat has strengthened his resolve to perform better in future.
The Olympic bronze medallist lost 1-0 in the second round to Lo Tsung Jui of Taiwan.
The bout went down to the golden point after both fighters failed to score in the first three rounds.
According to coach, Saboor Umari, Nikpai's eagerness to win the fight was his undoing.
"Both were fighting well, though Rohullah missed a few points, but at the golden point he went a bit early which cost him the bout," he said.
In taekwondo, a golden point round is played if the bout is drawn after three rounds. The first player to score a point in this round wins the bout.
Nikpai, who won Afghanistan's first ever Olympic medal in Beijing, took up taekwondo in an Iranian refugee camp after fleeing Afghanistan when the Russians invaded.
He later returned and went on to become a national hero when he caused an upset at the Beijing Olympics by beating world champion Juan Antonio Ramos of Spain to take the bronze medal.
Speaking to the BBC, he said, "I tried my best in the first three rounds but the bout went to the golden point where I lost.
ROHULLAH NIKPAI – THE FACTS
Region: Kabul, Afghanistan
Born: 1987
Discipline: Taekwondo
Career highlight: Bronze medal at Beijing 2008 – Afghanistan's first Olympic medal
"I was trying hard at that point but only one point decides the bout and that's where I lost," he said.
Although the Afghan fighter has gone up a weight class for the Asian Games, Nikpai did not cite this as a reason for his failure.
Indeed, he was unable to give any specific reason for the loss, instead remarking that the experience has given him a lot to learn from and that he would perform better in future.
Nikpai won his first bout against Uzbek fighter Maksim Rafalovich 3-1 to qualify for the second round.
According to Nikpai, "The Uzbek fighter was also very good but I won because I tried to get more points from the first round itself and probably I was better than him."
He wants to participate in more tournaments to gain experience and he is confident of winning more medals in the future.
Coach Umari has no doubts that Nikpai is a better fighter than his Taiwanese opponent but is already setting his sights on the future and the London Olympics.
"Next he is aiming at Olympic qualifications and would try to ensure a berth in the finals," he said.
Source: http://news.bbc.co.uk
In this article