Exploring the Buddhas of Bamiyan through first hand experiences
[LETTER #1]
•March 24, 2010 •
DATE: EST. 632
AUTHOR: HSUAN-TSANG; TRAVELING SCHOLARLY MONK
ORIGIN: CHANG-AN
TYPE: JOURNAL ENTRY
After my long journey to Fan-Yen-na ('Bamiyan') I have finally arrived, and it is more stunning than I ever thought possible. I travelled here seeking the roots of my Buddhist faith, and immediately upon arrival my breath is lost. I feel at one with this valley, this is where I will find more Sacred Buddhist scriptures to take back to Chang-an (Marx, 2010). A manuscript in Brahmi was recently recovered from a cave here, and I am sure there is more to find so I may document the spread of Buddhism. It is necessary to cross this passage of Fan-Yen-na along the trading route to arrive at India, and must be of central importance in the movement of Buddhism. The scenic valley is a perfect setting for the two gigantic representations of Buddha and the thousands of shrines that are carved out of the extensively large mountain range (Warikoo 2002, xi). The two tall Buddhas are adorned solely with gold and precious metals, making them seem vibrant and alive (Warikoo 2002, 17). The decorative art inside the dwellings, either their own viharas or the cave abodes, are quite different than I have seen before. This is most likely because of the diverse people I have thus far encountered. Though the majority of monks here follow the Lokuttaravadin school of thought, these monks are of all different colour and size, and each creates pieces of art according to their own style, or a combination of many (Upasak 1990, 147). The importance of these tall Buddhas is largely seen in the effect they have on this art of these monks from such far distance places, as they are faithfully replicated with stiffly pleated, schematic and parallel characteristic costume (Warikoo 2002, 19-20). This influence is further witnessed through the differences in the two statues, as the smaller Buddha is specifically a Shakyamuni Buddha (Warikoo 2002, 14), and the Big Buddha is a Vairocana Buddha which is part of The Five Dhyani Buddhas that are icons of Mahayana Buddhism (O'Brien, 2010). Surrounding these Buddhas are thousands of cave abodes that serve as monasteries, for temporary or permanent residence (Upasak 1990, 151).This provides safety and seclusion for the daily new visitors of the valley as they come to the colossal standing Buddhas as the first stage on their way to India to pay homage to the sacred sites of Buddhism (Warikoo 2002, 19). Fan-Yen-na will soon be cold, and I, along with many other visitors, will carry onwards from the Hindu Kush and this beautiful valley.
Relevant Pictures: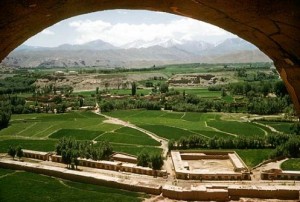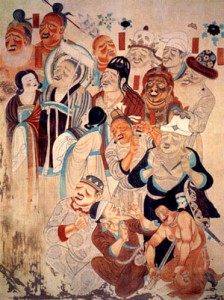 Picture Disclaimers:
Bamiyan at First Glance: This is actually a fairly contemporary picture of Bamiyan that is meant in this case study to create an opening scope into Bamiyan. This is a view that many travellers like Hsuan-Tsang would have first set their eyes on when reaching the valley.
Brahmi Manuscript: This is an actual manuscript found in the caves at Bamiyan.
Golden Face of the Big Buddha: There are no pictures that depict the Big and Small Buddhas of Bamiyan in their supposed 'gold and precious metal' coating. This image is meant as an example of what the Bamiyan Buddhas could have possible looked like.
Bamiyan Painting of Diverse Monks: This painting should be familiar from the Silk Road course. It is a painting of Princes from Central Asian states found in the Dunhuang Cave sites. What is particular relevant for the context of this letter is that it is an accurate representation of the appearance and costumes of the different nations along the Silk Road that congregated in such places as Bamiyan.
Sources for this Letter:
Marx, Irma, Travels of Hsuan-Tsang — Buddhist Pilgrim of the Seventh Century, 1997-2002. Silk Road Foundation. 24 March 2010.
O'Brien, The Lost World of Buddhist Gandhara: The Kushans and the Peak of Gandharan Culture, 2010. About.com Guide. 24 March 2010.
Upasak, C.S., History of Buddhism in Afghanistan, Central Institute of Higher Tibetan Studies: New Delhi, 1990.
Warikoo, K, Bamiyan: Challenge to World Heritage, Bhavana Books & Prints: New Delhi, 2002.
________________________________________________________________________
[LETTER #2]
•March 24, 2010 •
DATE: EST. 755
AUTHOR: NIKUDAR SAMAR; INDIAN MONK
ORIGIN: BAMIYAN
LANGUAGE: INDO-EUROPEAN
TYPE: LETTER TO MONASTERY IN KABUL
The princes of Bamiyan are being converted to a foreign faith; they are abandoning the straight path and imitating the ways of these self-righteous invaders. The buddhist people in this valley have withstood conversion for over one hundred years, and now I am saddened to see that our legacy is fading (UNESCO 2002, http://portal.unesco.org/en/ev.php-URL_ID=6647&URL_DO=DO_TOPIC&URL_SECTION=201.html) This 'Islam' they are following has left my fellow monks in dismay, as we are all fearful of what could happen to us, and our monasteries (Upasak 1990, 165). They have plundered and destroyed fine art that was made to embody the Buddha. I cannot let this continue. I will go to the caves of the tall Buddhas and try to conceal as much as I can. The Koh-i-Baba mountain is covered with glorious depictions of Buddha and it would be of great loss to our heritage if this was no more. The niches in which the two tall Buddhas stand are entirely decorated with paintings that include gold and red Buddhas, Bodhisattvas, different deities and other celestial beings, like flying Asparas, Devatas and Gandharavas (Upasak 1990, 161). I used to admire the unique crafts regularly as they depict many different interpretations of these figures all in wardrobes distinct to a particular monk, or group thereof. This collection is irreplaceable, and I would be devastated if it were lost. Perhaps this burdensome group of impious people will leave and the right way will be restored, but from what has happened all around the valley, I do not know if this will happen. I have heard horrible stories of what these 'Arabs' have done to monks in other nearby regions, leaving them with the choice of conversion or horrific death (Upasak 1990, 119). I do not wish to abandon my faith, and because I am not sure if this vicious practice of harsh choices will come to our valley, I will journey to you in Kabul. Hopefully they will not reach you first.
Relevant Pictures: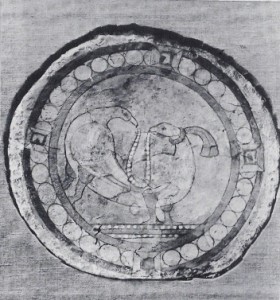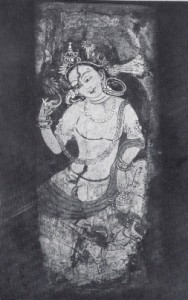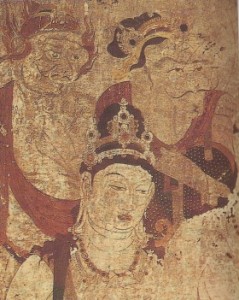 Sources for this Letter:
UNESCO, The New Couriers, Buddhas of Bamiyan: A Crime Against Culture. 2002. UNESCO. 24 March 2010.
Upasak, C.S., History of Buddhism in Afghanistan, Central Institute of Higher Tibetan Studies: New Delhi, 1990.
_______________________________________________________________________
[LETTER #3]
•March 24, 2010 •
DATE: 1222
AUTHOR: HAZARA MUSLIM
ORIGIN: SHAHR-E ZOHAK, BAMIYAN
LANGUAGE: PERSIAN
TYPE: DEATH NOTE/LAST WORDS
A vicious crusader has come into our valley and created widespread destruction. He is called Changiz Khan, and I know little of him. He is not Christian, he is not Buddhist and most importantly, he is not a Muslim. He has no mercy and is not a man of Allah. We took position in this fortress at Shakr-i Zohak. Made up of small steep-sided hills, its natural construction was intended to be the perfect place for the defence and control of the valley (Baker 1991, 47). Unfortunately the citadel had vulnerable points, and Changiz Khan won the battle. Everything around me is dead. My brothers, my family and the history of the Hazara people. Nothing is untouched except that which is most inaccessible, the big Buddhas (Upasak 1990, 166). With my last remarks, I am glad that these prominent parts of our heritage endured, and will live on to represent who we were (Wordsmiths Compilation 2002, 228). May Allah have mercy on me.
RELEVANT PICTURES: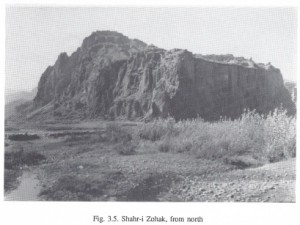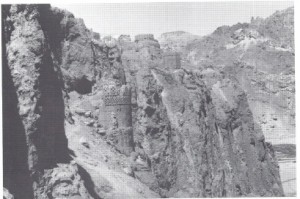 Picture Disclaimer:
Shahr-i Zohak: This is an actual picture of the citadel, but from the 20th century
Approach Tower at Shahr-i Zohak: This picture is meant to demonstrates the fine infrastructure of the building, as watch towers were carved into the rock surface. This is also from the 20th century
View of the Big Buddhas from Shahr-i Zohak: This is an actual view of the Big Buddhas, but from the 21st century.
Sources in this Letter:
Baker, P.H.B. and F.R. Allchin, Shahr-i Zohak and the History of the Bamiyan Valley Afghanistan, Tempvs
Reparatvm: Oxford, 2002. Upasak, C.S., History of Buddhism in Afghanistan, Central Institute of Higher Tibetan Studies: New Dehli, 1990.
Wordsmiths Compilation, Afghanistan: Things Fall Apart,Wordsmiths: New Dehli, 2002.
_______________________________________________________________________
[LETTER #4]
•March 24, 2010 •
DATE: EST. 1689
NAME: SUBAKTGIN; FORMER TURKISH SLAVE
ORIGIN: BAMIYAN
LANGUAGE: PERSIAN
TYPE: TRANSCRIBED ORAL STORY
Our ancestors were forced to come here to Bamiyan with the old Turkish Governor of Balkh many many years ago. They were witness to the intial traditions of this land, and were able to help the governor a great deal in destroying any embellishments and idols that were against the wishes of the Prophet, peace be upon him. They assisted in taking the princes captive and converting them to the proper path of Islam. Our family line also witnessed initial entry of this Mongol imperial line, as the current Indian Mughal emperor Auranzeb's predecessor Akbar did a great deal for for the non-Islamic community. He preached the Quranic principle of pluralism and understood that because the Muslim population was so new and small, without all his non-Muslim subjects, his empire would not survive (Armstrong, 2001). Under Akbar all spiritual practices; Buddhism, Judaism, Jainism, Zoroastrianism, and Muslims, lived harmoniously together, and Muslims specfically did not target the artistic interpretations of the idolotor faiths (Armstrong, 2001). Unfortunately for you my dearest grandchildren, the peaceful way of living will not remain. Auranzeb promotes a very aggressive Islam, and is trying everything in his power to suppress any 'deviant cults', that is any religion that is not Islam (Armstrong, 2001). We will be alright, because we are Muslim, our friends and neighbours will not be saved. His latest act has been to order cannon-shots to be fired at the colossal images of the big Buddha, and the surrounding artwork (Upasak 1990, 164). This has caused an outcry from not only the few remaining Buddhists in this region, but for all of us who appreciate the great history of this beautiful valley, as it is part of our history too. Aurangzeb's intolerance is not written in the Quran, he has far departed from the valuable words of the Prophet peace be upon him, and we will not follow his wishes (Armstrong, 2001). I am sorry that the future of our ancestorial line will not be able to witness this valley, in the same way of those who came before us.
Relevant Pictures: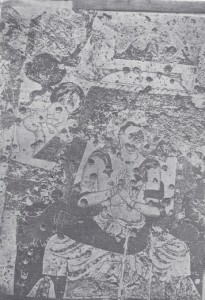 Sources for this Letter:
Armstrong, Karen Breaking the Sacred. March 11th 2001: New York Times. March 25th 2010
Upasak, C.S., History of Buddhism in Afghanistan, Central Institute of Higher Tibetan Studies: New Delhi, 1990
_____________________________________________________________________
[LETTER #5]
•March 24, 2010 •
DATE: 1973
AUTHOR: DAVID LINKER
ORIGIN: UNITED STATES
LANGUAGE: ENGLISH
TYPE: DOCUMENTARY VIDEO
This is a sequence on the Bamiyan statues from "Adventure in Afghanistan" from my wife and I's television travelogue series, "The Wild, the Weird, and the Wonderful." To witness and climb these great buddhist statues were a pivotal part in my life, and I felt connected with those of the past. It is amazing what the ancient people were able to accomplish, what splendor they created out of rock, out of nothing.
____________________________________________________________________
[LETTER #6]
•March 24, 2010 •
DATE: FEBRUARY 26TH 2001
NAME: MULLAH OMAR; TALIBAN LEADER
ORIGIN: AFGHANISTAN
LANGUAGE: PERSIAN
TYPE: DECREE
In view of the Fatwa of our prominent scholars and verdict of our Supreme Court, it has been decided by the Afghan governing elite that all statues and idols present in this country, will be broken down effective immediately (Krieken, 2002). These blasphemous idols have been gods of the infidels, who expect them to turn into gods again; the only God is Allah and all others should be removed (Krieken, 2002). My job is to implement the proper Islamic order as they were intended by the Quran. I ask the surronding Muslim countries for support and instead they question what we are doing. To them I ask this, how could we justify, at the time of the Last Judgement, having left these impurities on Afghan soil (Centlivres, 2008). We have given enough warning, and now the time has come to fulfill our destiny.
THIS VIDEO IS REMOVED BY USER
"All we have destroyed are stones. I don't care about anything else but Islam" ( Warikoo 107)

Source in this Letter:
Centlivres, Peter, The Controversy over the Buddhas of Bamiyan. February 2008. South Asian Multi-Disciplinary Academic Journal. 26, March 2010
Krieken, Juliette, A Turn-Around for Afghanistan's Cultural Heritage? March 2002. International Institute for Asian Studies. 26. March 2010
Warikoo, K, Bamiyan: Challenge to World Heritage, Bhavana Books & Prints: New Delhi, 2002.
__________________________________________________________________
[LETTER #7]
•March 21, 2010 •
DATE: APRIL 2001
NAME: MIRZA HUSSEIN: HAZARA MUSLIM
ORIGIN: BAMIYAN
LANGUAGE: DARI
TYPE: APOLOGY
The Taliban have made it impossible to live in Bamiyan, and the lack of international support make it hard to go elsewhere. The people of Bamiyan were asking for protection from the United Nations for these collosal Buddhas as a means to protect them from the wicked Taliban, but no help was given until it was too late. The Taliban do not consider me and my people Muslims because we have a long history in this valley, and appreciate the foundations on which this valley first began, with many different people with different origins and race, lived side by side, focusing on Buddhism as their core. The Taliban forced me to take part in destroying these statues, and for that I am truly sorry. I was under guard the entire time, and many other Hazaras saw the Taliban carting in explosives and setting up target sites. Everyone in the world is responsible for this loss, not just the Taliban. There should have been more we could have done to protect this meaningful part of our shared world history.
Mirza Hussein's story is told at 6:27 in this YouTube clip:
Relevant Pictures: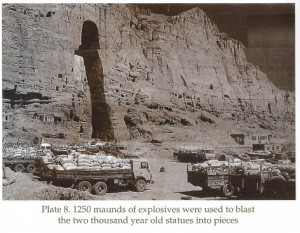 _________________________________________________________________
[LETTER #8]
DATE: APRIL 2001
NAME: DR. ZEMARYALAI TARZI; WORLD RENOWN ARCHEOLOGIST
ORIGIN: AFGHANISTAN
LANGUAGE: PERSIAN
TYPE: VIDEO DOCUMENTARY
This is a devastating loss for the people of Afghanistan, and for the entire world. My daughther will not know of the beauty of this valley as I have, and this is very frustrating.
Dr. Tarzi's reaction is documented in this video at 4:27:
Source: http://bamiyanasithappened.wordpress.com/