Nov 24, 2010,
Athens – European Union border teams deployed to patrol Greece's north-eastern land border with Turkey have helped significantly reduce the flow of illegal immigrants streaming into Greece, reports said Wednesday.
The team of Frontex guards together with Greek border police have arrested 2,150 illegal immigrants since the beginning of November. Last month more than 6,000 illegal immigrants were reported to have entered north-eastern Greece, the Greek private radio station SKAI reported.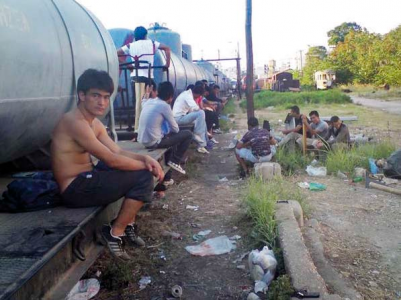 It is the first time that a team of the EU's Rapid Border Intervention agency Frontex has been deployed to an EU member state since the teams were created in 2007.
More than 100 border guards started patrols along the narrow river crossing and frozen fields between the frontier villages of Nea Vyssa and Orestiada in far north-eastern Greece on November 5.
Frontex had agreed to send 175 officials after Greece turned to the EU agency for help because of the increasing number of refugees – mainly from Africa and Afghanistan – attempting to cross the border to find their way into the EU.
The mission is expected to last for two months.
Greece accounts for nearly 90 per cent of the EU's detected illegal border crossings, which has led to a national crisis with migration detention facilities, police and border guard stations and prisons overwhelmed.
Turkey promised closer cooperation with Greece on fighting illegal immigration in exchange for Greek assistance in helping relax EU visa rules for Turks.
Athens has long accused Ankara of failing to make a real effort to stop the large wave of illegal immigrants entering Greece and ignoring an agreement to accept the return of detained migrants.
Illegal crossings on the land border have intensified after Frontex boosted surveillance along the sea borders. It recorded a six-fold increase there in the number of immigrants trying to enter Greece in the second quarter of this year.
More people are also trying to cross via the Turkish border because a previously used route from Libya to Italy was closed off last year through a controversial bilateral agreement, which allows Italian vessels to push back migrants' boats caught at sea.
The UN recently urged EU states to stop all transfers of asylum seekers back to Greece under the 'Dublin II' regulation due to the extremely poor conditions they face in the country.
The EU's Dublin Regulation allows states to send asylum seekers back to the country where they first entered the EU to have their application processed.
Last month, Greece reportedly had a backlog of more than 52,000 asylum claims waiting to be processed.
Greece's Socialist government has pledged to crack down on illegal immigration, while at the same time promising to grant citizenship to all immigrant children born in the country.
See also: A Dublin II Deportation Diary
Source: http://www.monstersandcritics.com
In this article