November 29, 2010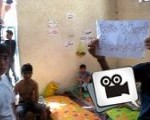 On Saturday afternoon, 27th of November, a 24 years old afghan refugee, father of three children, was crushed between two trucks during his effort to climb in one of them and leave for Italy. This happened in the national road Patras-Korinthos (in Greece).
According to the Group for solidarity to refugees and immigrants the 24 year old man together with other afghan refugees was trying to enter a truck while it was stopped in front of a traffic light. Behind it there was another truck and its driver tried to push away the refugees by honking and approached the truck in front of him. The afghan man did not manage to escape and was severely injured. He was transferred to the hospital of Patras where he passed away 5 hours later. The police characterized the incident as a slight accident and the driver was released instead of standing trial.
Today (29th of November) in the afternoon there will be a demonstration at the central square of Patras against this decision.
A lot of refugees try to climb and hide in trucks at the port of Patras that are leaving for ports in Italy. Some of the refugees die of suffocation inside the boat, others suffer accidents like the one stated before.
As long as the borders are closed, there will be people dying during their effort to cross them. Dublin regulation must be abolished and European borders must open.
Source: http://w2eu.net
In this article