Written by By U.S. Air Force Chief Master Sgt. Julie Brummund Ghazni Provincial Reconstruction Team Tuesday, 21 December 2010, 16:22
GHAZNI PROVINCE, Afghanistan – The Ghazni Provincial Reconstruction Team traveled to Qara Bagh District Dec. 17 to inspect the status of the ongoing road project between Qara Bagh city and Sanga Masha in Jaghuri District.
The road project, contracted with RWA Construction Company, covers 28 kilometers and connects the capitals of these two districts. This road project is a major priority for the Government of the Islamic Republic of Afghanistan and the PRT, according to U.S. Navy Cmdr John Doolittle of St. Petersburg, Fla., PRT commander.
"We are working closely with GIRoA to ensure this road project is completed before the end of the next construction season," he added.
The RWA Construction Company has committed to completing the road by June 2011.
The road will provide access from the Jaghori capital to Highway 1, part of GIRoA's objective to connect each district center with the highway that rings the country.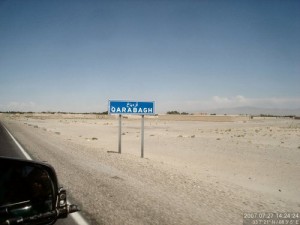 Source: http://www.cjtf101.com
In this article