The Local, 4 Jan 11
Figures from Sweden's Migration Board (Migrationsverket) reveal a sharp increase in the number of people who sought asylum in Sweden during 2010.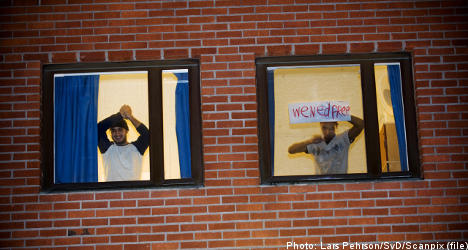 During the last year, 31,901 people applied for asylum in Sweden compared to 24,232 cases the year before.
Most asylum seekers were from Serbia, followed by Somalia, Afghanistan, Iraq and Kosovo.
The number of unaccompanied refugee children who came to Sweden also increased. Last year the figure was 2,394, compared with 2,250 in 2009. The children come mainly from Afghanistan, Somalia and Iraq.
The Migration Board managed to deal with almost all the applications, despite the increase of almost 4,000 cases, granting asylum in roughly one in three cases.
Processing times have also improved. Last year 74 percent of cases were decided within six months compared with 52 percent in 2009.
The marked increase in applications from Serbia, with 6,343 Serbs seeking asylum, is attributed to change in visa requirements for Serbs following a decision by the European Union at the end of last year.
There was also an increase in refugees from Afghanistan. Afghan asylum seekers numbered 2,393, an increase of roughly 700.
Numbers of Somalis and Iraqis, who have previously constituted the largest group of asylum seekers, decreased according to figures from the Migration Board.
TT/The Local (news@thelocal.se/08 656 6518)
Source: http://www.thelocal.se
In this article