Monday Jan 24, 2011
UK, Sweden, Norway Germany, Finland and Denmark react to court decision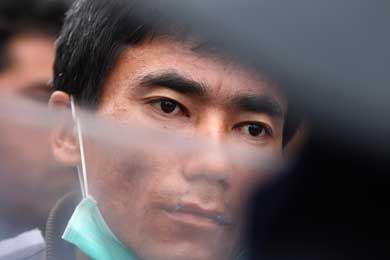 The United Kingdom, Sweden, Norway, Germany, Finland and Denmark have decided to stop sending hundreds of asylum seekers back to Greece, despite European Union regulations demanding that they do so, because of the country's inability to deal with the refugees and guarantee their safety.
Greece's six EU partners announced their decisions late on Sunday, about 48 hours after the European Court of Human Rights fined Greece and Belgium for the mistreatment of an Afghan asylum seeker who suffered abuse in both countries. The refugee applied for asylum in Belgium in February 2009 after traveling there from Greece. But Belgian authorities returned him to Athens last June, citing the EU's Dublin II Regulation according to which asylum must be requested in the first European Union country entered.
The asylum seeker was sent back to Greece despite a warning issued by the United Nations Refugee Agency (UNHCR) condemning the Greek asylum procedure and reception conditions for refugees.
In 2009, Greece received 16,000 asylum applications but only approved 0.3 percent of them, compared to an EU average of 31 percent. There are currently some 46,000 applications yet to be processed.
The decision by Denmark not to adhere to the Dublin II Regulation, means that 340 asylum seekers awaiting deportation to Greece will now have their applications for EU residency heard in Denmark. The decision was made by Immigration Minister Birthe Ronn Hornbech. "We call on Athens to make efforts so that it is in a position, as soon as possible, to deal with the applications from refugees on its territory," she said. Hornbech added that she would ask for the matter to be discussed at an upcoming meeting of EU justice and interior ministers.
The decision affects around 30 people in Finland, according to head of the Immigration Service's Asylum division, Esko Repo. "It is clear that in terms of living conditions and the actual [asylum] process, Greece is not capable of respecting refugees' rights," she told Agence France-Presse.
The United Nations Refugee Agency (UNHCR) in Greece welcomed the passing of a law earlier this month that paves the way for the creation of a new asylum service. The independent body will take over later this year from the police the process of assessing asylum applications and screening asylum seekers.
Meanwhile, some 250 immigrants erected makeshift shelters on Monday in the grounds of the Athens Law School as they prepare for a protest to demand residence permits. The migrants, mostly from North African countries, arrived from Crete on Sunday night.
Source: http://www.ekathimerini.com