Afshar Massacred by Ahmad shah Masoud and Sayaf in 1993
According to The Guardian, November 16, 2001: "On February 11, 1993, Massoud and Sayyaf's forces entered the Hazara suburb of Afshar, killing – by local accounts – "up to 1,000 civilians", beheading old men, women, children and even their dogs, stuffing their bodies down the wells."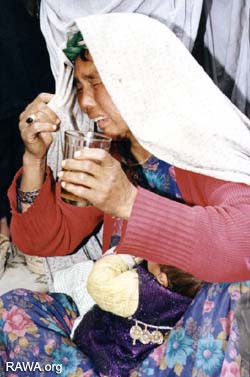 Victims: Innocent Hazara residents of Afshar and Karteh Sahe and members of the Hezb-e-Wahdat (Unity Party) who defended the Hazara people and fought for equal rights.
Date: February 1993
Perpetrators: Then former President Rabbani, his chief military commander and son-in-law, the so-called "lion of Panjshir" Ahmad Shah Massoud (both from Jamiat-i-Islami political group who participated in the murders) and Abdul Rasul with his political party, Ittehad-i-Islami.
Location: Afshar and Karteh Sahe, West Kabul. Majority of Hazara residents.
Details:
"…hundreds of Hazara residents were massacred by government forces, under the direct order of President Rabbani and his cheif commander, Massoud."
"At one o'clock on the morning of 11 February, while the inhabitants of Afshar lay asleep in their beds, the Institute of Social Sciences was attacked from three sides: from the west by Sayyaf's Ittehad-e-Islami forces, and from the north and south, by Rabbani's forces, helped by traitors within the Party, who had already been bought off."
"Following this withdrawal, forces loyal to Sayyaf and Ahmad Shah Massoud raided the area. For the next 24 hours they killed, raped, set fire to homes, and took young boys and girls as captives. By the time the news was broadcast in Kabul and internationally the following day, some 700 people were estimated to have been killed or to have disappeared. One year later, when parts of the district were retaken by Hezb-e-Wahdat forces, several mass graves were unearthed containing a further 58 bodies…"
Hence, Human Rights Watch reported that civilians had their throats slit and leg or arm cut off. More than 1,000 were killed and/or disappeared.
"Before the Afshar massacre of Hazaras civilians in 1993, jihadi leader Ahmad Shah Masoud and Abdul Rasool Sayyaf told his officers, "Don't leave anyone alive — kill all of them."
Read this report on Rawa.org click here
Read This report on BBC.com click here
In this article