By Julius Cavendish | Independent | Monday, 31 January 2011
The man who is held responsible by the UN and human rights activists for the massacre and rape of ethnic Hazaras during Afghanistan's civil war is leading the race to become the new speaker in the Afghan parliament – and has President Hamid Karzai's backing.
Abdur Rab Rasul Sayyaf, alleged to be responsible for the Afshar massacre of 1993 and accused by the 9/11 commission of training Khalid Sheikh Mohammed, the mastermind of the US attacks in 2001, has been polling marginally more votes than his closest rival as MPs debate how to choose a speaker after two inconclusive rounds of voting.
Karzai's decision to back the man on the wrong end of numerous allegations of human rights abuses may be calculated to snub his Western allies, who resisted his attempts to change the composition of parliament after a flawed election returned a parliament more hostile to the Afghan president. Yet it will merely add grist to the Taliban mill. One of the biggest grievances that Afghan villagers lay at the government's door is that it is filled with a group of corrupt and brutal former warlords, whose depredations during Afghanistan's civil war prompted the rise of the Taliban.
Sayyaf fits that bill perfectly. Before an orgy of killing, raping and looting in western Kabul in 1993, Sayyaf reportedly told his commanders: "Don't leave anyone alive – kill them all." More than 700 civilians disappeared. Sayyaf, who is a follower of Wahhabism, one of the strictest interpretations of Islam, also encouraged his allies in the last Afghan parliament to block the passage criminalising domestic violence and child marriage.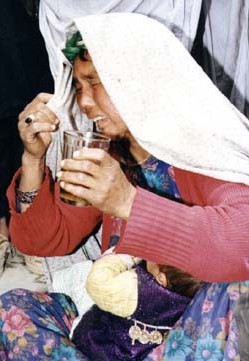 "Sayyaf bears a heavy responsibility for the war crimes and atrocities of his forces in the civil war," said Rachel Reid, Afghanistan analyst for Human Rights Watch.
"Instead of being held to account for these crimes, he has climbed ever higher above the law, now trying to become the chief law maker. This is a terrible prospect for the victims of atrocities by his forces, and for women rights."
"Anyone concerned about the prospect of the Taliban returning to political life should be deeply disturbed by an extremist and a warlord like Sayyaf getting control of parliament, since his views on women's rights are just as hard-line. There is a real risk of women's rights being unravelled with Sayyaf at the heart of the legislature."
In this article