This comes from an Afghan asylum seeker who was taking part in the mass hunger strikes that broke out on January 18:
There are 1,100 people in Curtin detention prison. More than 300 are on hunger strike. The rest, 100 percent, are boycotting the mess.
Last week only three people got a decision, all of them "No". Now the Australian government has made an agreement with the Karzai government. Now the Australian government is sending us back to that country. It is like signing an agreement with our enemy. Is that humanity?
Yesterday a young man tried to kill himself. He cut himself all over his body. They took him to the hospital in the morning and brought him back to his room in the evening. He is still in his room. Now more than 300 people are on hunger strike, sitting in the hot sun with no shade.
More people are coming to join us, three or four at a time, because our problem is the same. We want freedom or death, protection, not detention. We have taken the white boards from the classroom. We have written on them with the marker: We want freedom or death; we want protection not detention; we want positive outcome.
Tell our friends, tell the media, tell the Green Party. We want to talk with an authorised person. The Immigration officers who are living in Curtin, when we ask them questions – they have one answer – "Sorry, we have no authority". We demand to Immigration here in Curtin – who is authorised? We say to them – "We don't want to talk to you".
We will continue til someone comes with authority. We are ready! See it on the white board – freedom or death! When we arrived on Ashmore Reef, when they took us to Christmas Island, they told us to wait for six months, it was the law. We did that because we are following the law of Australia. Now the process has started, no decision, no result. We have danger in our country, we can't go back. We are waiting for an authorised person and we need an answer from that person!
Meanwhile, Serco guards are watching us, walking around us, asking why we are doing this, asking what are our demands – they will send them to Immigration. None of the officers of immigration in Curtin are coming near to us.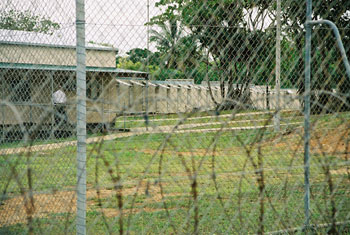 Source: http://www.cpa.org.au