Xinhua | China Daily | February 02, 2011
CANBERRA, February 2 (Xinhua) — The governments of Australia and Afghanistan were in disagreement over their recently signed Memorandum of Understanding (MOU) to return failed asylum seekers to Afghanistan, The Australian newspaper reported on Wednesday.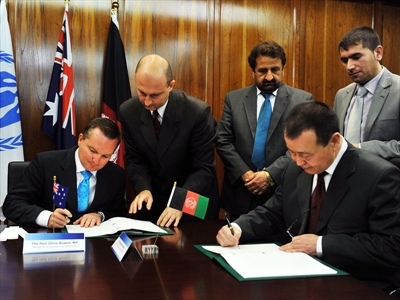 Two weeks ago, the Australian government reached an agreement with Afghanistan authorities, under which failed asylum seekers will be sent directly back to the war-torn country.
According to Australian Immigration Minister Chris Bowen, Afghanistan was obliged to take failed asylum-seekers, including those removed by force, under the MOU
Bowen hailed the agreement, saying that it will be a major tool in the fight against people-smuggling.
However, Kabul's envoy to Australia, Amanullah Jayhoon, on Tuesday night insisted it only applied to voluntary returns.
"The MOU does not say anything, it is very clear about voluntary re-admitting," Jayhoon told The Australian newspaper on Wednesday.
"The word 'force' has not been used in any part of it."
United Nations High Commissioner for Refugees (UNHCR) Regional Representative Richard Towle, who was also a signatory on the deal, backed the Australian government's stance insisting the terms oblige Afghanistan to accept forced returns.
No section of the MOU explicitly allows for involuntary removals. The section notes that, while voluntary returns were " preferable", Afghanistan would "re-admit its nationals who are in Australia".
The Australian newspaper reported ambiguously worded section of the document has created confusion, as both sides interpreted the agreement in their own ways.
Meanwhile, Opposition immigration spokesman Scott Morrison said the dispute suggested that Minister Bowen was premature in claiming the success of this arrangement.
Tuesday's confusion followed similar claims by Afghan Minister of Refugees Jamaher Anwary, who on Monday insisted forced returns were not covered in the agreement.
Anwary was one of three signatories to the MOU, with Bowen and Towle being the others.
As there are millions of Afghans living as refugees in neighboring Iran and Pakistan, the issue of forced returns is sensitive for Kabul of Afghanistan.