by:Muzafar Ali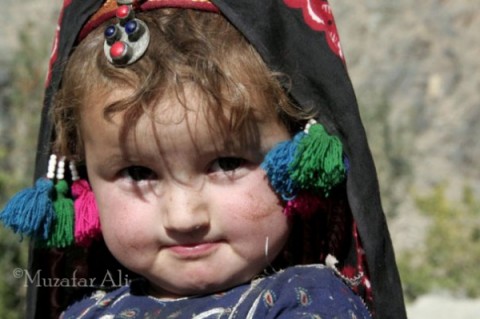 I found this girl cute Hazara girl on my way back to Nili on 2009. Her name is Fatima. She is from Munmai Village, Kitti District, Daikundi Province. She was very shy when I brandished the camera. As much as I spent time in her village. I remember she was very sweet while talking like a doll.
Kitti District is is situated in southwest of Daikundi Province. Despite good security, by the support of local people, Kitti District is a backward and neglected districts in Afghanistan. Very few drops foreign aid has reached to this area. People are coping with not only natural challenges but as well as Taliban influence. Because Kitti share borders with volatile districts of Uruzgan and Helmand provinces. It is strong will of local people that they never allow Taliban to enter into their territory. Instead brave people of Kitti provide reliable soldiers to Afghan National Army to fight against Taliban and Al-Qaeda in all over country. US Special Forces consider Kitti people as the most reliable and trusted people in Afghanistan. Mostly they provide security to US Special Forces in Uruzgan, Kandahar, Ghazni, Daikundi, Zabul and Maidan provinces.
Despite poverty, negligence and backwardness, Kitti District has a colorful and vibrant culture. In this amazingly beautiful district, Hazaras have been very much successful in a bid to preserve their ancestral culture. People wear traditional Hazaragi dresses and women wear traditional Hazaragi jewelry and other outfits. Sweet Hazaragi language is spoken which is fading in majority of other parts of Afghanistan.
In this article