From Our Correspondent Abbas Daiyar
Hundreds of armed Kuchis (nomads) attacked Nahur district of Ghazni Province on Saturday, looting and burning down 26 villages and killing five people. According to victims and people of the area, they were ambushed suddenly at night by armed Kuchis, and residents of tens of villages in Nahur fled the area. Government officials have confirmed only one dead body in the area.
According to a member of Ghazni Provincial Council, some days ago Taliban in coordination with Kuchis, blew up the mobile phone antenna towers, so that people of the area do not report the incident and call for help from outside the district. He said Kuchis continue burning houses of the people, and they have also blocked the road between Quanq and Nahur.
Member of parliament, head of People's Unity Party and a prominent Hazara Leader Haji Muhammad Muhaqiq strongly condemned the attack and ablaze of the villages. He said the difference in Kuchi attack this year is that Taliban are openly supporting armed Kuchis.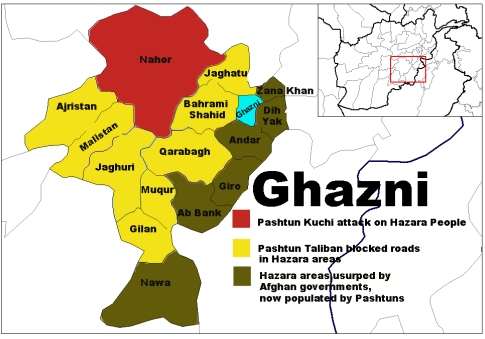 Mr. Muhaqiq expressed deep concerns on the Kuchi attack that occurs every year. He said in other parts of the country, security forces fight Taliban, but why they don't take action against Taliban under the name of Kuchis. The security forces do not take any serious step to avoid this conflict.
Zorawar Zahid, Police Chief of Ghazni while talking to the Outlook Afghanistan confirmed the attacks and said Police has sent deployment to the area, and help has been asked from Police in Jaghori and Qarabagh districts. He added that a delegation has been sent to investigate the incident.
Deputy Governor of Ghazni, Muhammad Ali Ahmadi, said that the armed men under the name of Kuchi have attacked Nahur District on motorcycles, looting and burning homes of people in 26 villages. He said police has been sent to the area, but attackers are there.
Mr. Ahmadi told he has contacted Kuchi elders who denied the attackers were Kuchis, saying that they were "trouble makers" to disrupt the situation in the area. According to Ahmadi, Kuchi elders said even people from North Waziristan are among those attacking and burning homes of the people.
Asadullah Sa'adati, representative of the people from Daikundi province also condemned the Kuchi attacks calling it inhumane and deeply concerning. He added that if the current process continues in the country, the incidents of Nahur can happen all across the country.
Mr. Sa'adati said the Kuchi conflict is an apparent picture, the real story is that some elements want to disrupt the peaceful situation. He added that the concerned authorities should be alerted to this.
Member of Parliament from Ghazni Province, Mr. Alizada said more than 150 armed men had attached the area and plundered peoples' belongings.
The Kuchi attacks on local people on land disputes become catastrophic, if it's not resolved. Every year in summer this issue gets intense. Last year the President had announced lands for Kuchis to avoid the killing and conflict.
Source and copyright
In this article