By Sylvain ROUSSEAU
At the start of July, NATO began to withdraw its troops from Afghanistan, handing responsibility over to the Afghan authorities. Bamiyan is one of the first regions involved in this process.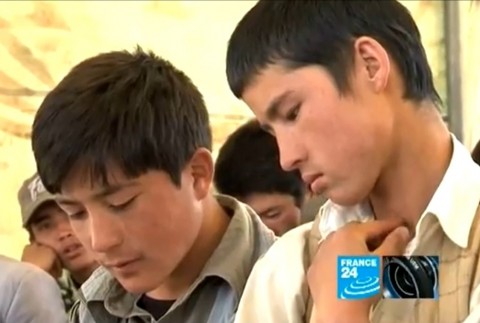 The first thing that strikes you on arrival are the distant mountain, with two gaping holes on either side. In March 2001, the Taliban destroyed the two tallest Buddhas in the world: one 38m high, the other 53m. Today, this is probably one of the world's saddest landscapes. The empty niches represent years of barbarity, deception and delusion. At the scene, a few workers pick up the last remaining stones and safely stow them away. According to UNESCO, the stones collected following the destruction of the Buddhas could help to rebuild them one day.
The Hazara
A little further on, we reach the town centre. In reality, it's just a main street with a few stalls on either side of the road. Arriving in Bamiyan gives you the impression that you have left Afghanistan; there are almost no blue burqas and the inhabitants have Mongoloid features. Legend has it that they are direct descendents from Genghis Khan's soldiers. These people are Hazaras, the only Shiite ethnic group in Afghanistan, which is 90% Sunni. The Taliban denounced them as infidels. When the Taliban entered Bamiyan, they killed 15,000 members of the local population. Since then, the population has deplored the Taliban and lives in fear of their return.
Band-e Amir
Not so long ago, the Bamiyan region attracted the most tourists in Afghanistan. Habiba Sarabi is trying to entice the tourists back. In 2005, she became the first Afghan woman to be elected governor of a province. She decided to create Band-e Amir, the first Afghan national park. The series of six lakes in the middle of the mountains contain a certain curiosity. They come is a variety of colours so that the handful of tourists passing through – soldiers, aid-workers and even a few Afghans – can paddle on the turquoise lake.
An Afghan fantasy
Despite all this, Bamiyan is one of the poorest regions of Afghanistan. The inhabitants live in caves and use crude, stone-age tools. NATO forces are set to completely withdraw from the province, handing control to the police and army who are unable to drive out the Taliban. But Bamiyan gives a glimpse of how Afghanistan will manage on its own. Whether the Afghanistan of tomorrow will be able to resume its previous way of life or whether it will be deeply marked by the coalition's intervention remains to be seen. For now, Bamiyan remains the illustrious vision of the Afghanistan's future in the minds of the Western powers.
In this article