Sunday, July 10th 2010 Quetta-Pakistan

Hazara People: Hazara People's correspondent reports from Quetta that three Hazaras were killed in a terrorist attack in Qambarani Road Quetta.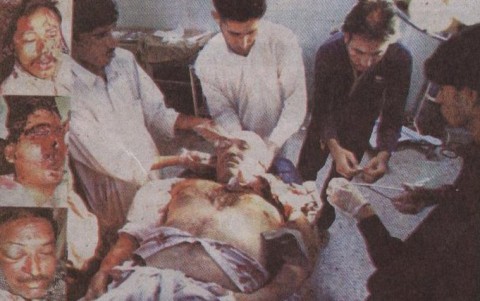 The victims are Ashiq Hussain, Amjad Hussain and Abdul Qayoom by names who are all Hazaras from Quetta.
Amjad Hussain and Ashiq Hussain were two government employees as officers.
The terrorists used motorbike to open fire on them and then they escaped from the scene and as usual the police came to the area long after their escape.
The death bodies were then taken to BMC Hospital (Bolan Medical College Hospital) to deliver to their families.
The police did not find any track of the terrorists yet.
In most of such cases whether the Pakistani police are linked with the terrorists or they are under pressure and influence of the extremist groups not to open investigation on such cases.
No one has taken the responsibility for this attack yet, but it is strongly believed the gunmen belonged to the terrorist group Lashkar- e Jhangvi who had sent an open letter to the media regarding the killing of Hazaras a couple of months ago.
This is the seventh bloody attacks against the Hazaras this year in different parts of Quetta Pakistan in which tens of innocent Hazaras are killed. The extremists have taken an oath to eliminate the Hazaras from Quetta by an ethnic cleansing process.
In this article