By Salman Heydari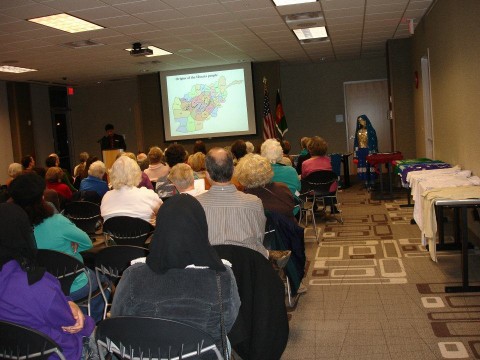 The Hazara of Afghanistan: Cultural Exhibit & Lecture was developed to increase awareness of the rich history and cultural heritage of the Hazara people from Afghanistan, who now live throughout the world. The Hazara ethnic group, the third largest in Afghanistan, is a culture that has survived despite genocide and decades of political oppression at the hands of the Taliban and other Afghan regimes.
The lecture and exhibit are the work of Mohammed Rezaee, who emigrated to the U.S. eight years ago. He now lives in metro Atlanta with his wife and family. He has delivered the lecture several times in the Atlanta area, at the same time showing photographs (taken by professional photojournalists) of Hazara life, using computer technology to show the photos in large-scale, living color.
More than hundred Americans, including high level officials, attended the opening on January 17, 2012, an evening reception at which the Americans were served Hazaragi foods, (Bosragh and Pirki) prepared by Mr. Rezaee's wife. They were also invited to a display of Hazaragi clothes.
After the gallery reception Mr. Rezaee gave a lecture about the history of Hazaras and the current conditions of the Hazara people. Also, a brief history of Hazaras, which was written by a famous Hazara historian, Haj Kazim, was distributed to those in attendance in a brochure format.
There was a separate opening for Afghans. Mr. Baisr Dolatabadi, Mr. Abdul Khaliq Hazara, and Ishaq Mohammadi gave lectures—via Skype—about Hazaras' history, culture, customs, and the current condition of the Hazara people.
The on-going photo exhibit features works of Hazara photojournalists Hafize Besharat, Muzafer Ali, Barat Ali Batoor, Sajad Goher and Mohammad Rezaee, which have never been seen before in the United States. The photo exhibit (large framed copies of the photographs) is on display at Tucker Public Library, metro Atlanta, until March 28, 2012. Up to now, many Americans have visited the photo exhibition.
The lecture-exhibit will again be presented, at no cost, on June 14, 2012. Georgia Perimeter College, which is one of the largest of Georgia's colleges, will host the presentation at their Dunwoody Campus. The photo exhibit will be open to the public through July 13, 2012.
You are cordially invited to attend the lecture for the opening of the photography exhibit, on Jun 14, 2012. The lecture will include a food tasting, a display of traditional clothing items, and discussion of the history and unique culture of the Hazara people.
For more information please visit The Hazara of Afghanistan: Cultural Exhibit & Lecture's click here.

In this article