QUETTA: In yet another case of sectarian targeted killing, six people belonging to Hazara community were shot dead and three others were left with serious injuries when armed men ambushed a shop on Prince Road of Quetta, on Monday night.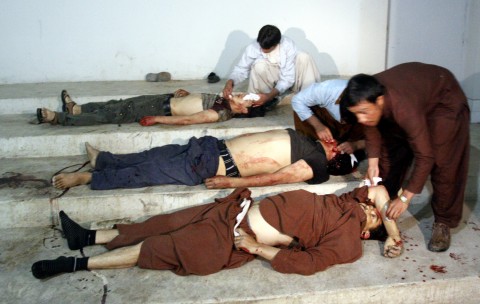 Unidentified masked men riding a motorbike sprayed a volley of bullets on a Shoe -making shop located on busy-Prince Road in the center of Quetta city with sophisticated weapons. Resultantly, six people were killed instantly and two others sustained serious injuries. The assailants swiftly escaped from the scene after committing the crime.
Police and other law enforcement agencies rushed to the site soon after the incident and cordoned off the area. The injured and dead were shifted to nearby hospital.
Sources in hospital said that the condition of injured was not stable.
The deceased were identified as Qurban Ali, Muhammad Hussain, Muhammad Kareem, Yawar, Shabir and Syed Ahmed while the injured were identified as Irshad, Lali and Younus.
"Police is raiding different places in the city to arrest the culprits of this tragic incident," DIG Operations Qazi Abdul Wahid told the media persons and confirmed that six people had been killed and three others wounded.
"Some workers hailing from Hazara community of Shiite Muslims were busy in the shoe-making shop when armed men opened indiscriminate fire on them," another police official said, and adding that the incident appears to be a case of sectarian targeted killing.
Soon after the incident a large number of people belonging to Hazara community rushed to the Civil Hospital and blocked the Jinnah Road. Some, infuriated protestors ransacked hospital, pelted vehicles with stones and carried out aerial firing.
Owing to tensed situation, a heavy contingent of police and Frontier Corps were call on Jinnah Road and the injured were shifted to Combined Military Hospital.
Meanwhile, Tahafuz Azadari Council and Hazara Democratic Party have strongly condemned the killing of innocent people and demanded for immediate arrest of culprits. They have announced three-day-mourning over the tragic killing.
In this article