QUETTA: Mourning against the targeted killings in Quetta continued for the third day on Monday, and members of the ethnic Hazara community continued their protests against the worsening law and order situation, DawnNews reported.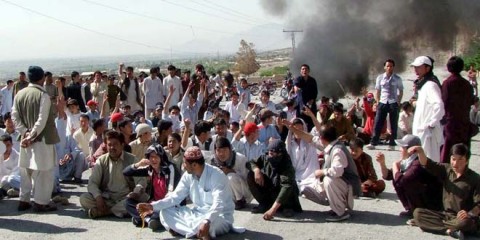 Earlier on Sunday, a high-level meeting on the province's security situation chaired by Chief Minister Aslam Raisani decided to conduct targeted operations.

During the meeting, the authorities approved a new security plan for Quetta.
Under this plan, a ban on pillion-riding has been extended for two months whereas a ban on display of weapons is being maintained.
The FC and police personnel have been directed to take indiscriminate action against vehicles with tinted windows and personalised number plates.
Furthermore, the Balochistan government has announced to hand out Rs 400,000 to the heirs of each target killing victim and Rs 100,000 for each person injured as compensation. After the decision to conduct targeted operations and to take indiscriminate action against criminal elements, the police conducted raids in various localities of Quetta and arrested many suspects.
A few hours after the decision was taken, two persons were killed near Bakra Piri by unknown pillion-riding gunmen. One of the slain was identified as Abdul Ghani whereas the second person had not yet been identified.
Earlier, the Hazara Democratic Party had rejected the chief minister's invitation for talks and the party's provincial chairman Abdul Khaliq Hazara said that the provincial government had failed to control the law and order situation.
In this article