Omid Bidar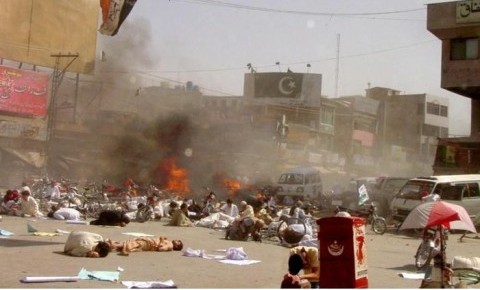 The motive for Hazara genocide in Quetta (Provincial capital of Balochistan) is a serious issue with its high trends in the social networks these days. Everyone has a different thought on this issue.
Hazaras are being slaughtered in Quetta Pakistan since last decade and more than 700 Hazara Pakistani civilians living in Quetta have been murdered in target killings and hundreds are wounded so far. The attacks are being launched by Lashkar-e-Jhangvi (LeJ) which is an anti Shiite Pakistani religious extremist banned group that has claimed responsibility for plenty of deadly attacks on Hazara minority living in Quetta.
Hazaras living in Quetta are mostly Shiite Muslims; there are also a considerable number of Sunni and Ismaiely Hazaras as well. They can easily be recognized because of their similar facial structure to the Mongols, thus they are the primary victims of the attacks.
A brief introduction to Lashkar-e-Jhangvi (LeJ) terrorist activities:
July 2011: LeJ claimed responsibility for shooting passengers waiting at a bus terminal in Quetta, killing eleven and wounding three others. All of the victims were Hazaras. The attack was claimed as revenge for the death of a Sunni Mullah.
July 2011: LeJ claimed responsibility for an attack on police in Quetta in which two police officers and a civilian were killed. Both police officers were Hazaras.
June 2011: Suspected LeJ militants shot dead the deputy director general of the Pakistani Sports Board in Quetta. The victim was a Hazara.
May 2011: Suspected LeJ militants shot dead seven Hazara civilians and wounded six others in Quetta.
May 2011: Suspected LeJ militants killed eight Hazaras and wounded 15 others in a hot arms and grenade attack in Quetta;
August 2010: Four LeJ operatives were arrested for involvement in May 2010 attacks on Ahmadi Mosque.
June 2010: LeJ operatives were linked in media reports to suicide attacks on Ahmadi places of worship in Lahore.
April 2010: LeJ operatives conducted a double suicide attack targeting refugees in Kohat District, KP, killing an estimated 44 people and injuring at least 64 others.
March 2010: LeJ fraction Lashkar-e-Jhangvi Al-Alami was linked to the kidnapping of British journalist Asad Qureshi and former Inter-Services Intelligence (ISI) Colonel Armir Sultan. The kidnappers reportedly killed a third hostage, former Pakistan Air Force officer and former ISI member Khalid Khwaja.
March 2010: at least 57 people were killed and at least 90 others were injured when twin suicide bombs detonated in Lahore's RA Bazaar. LeJ claimed responsibility.
January 2010: LeJ claimed responsibility for ambushing Hazara policemen in Quetta.
November 2009: LeJ claimed responsibility for a bomb blast targeting the Deputy Inspector General of Police Operations and warned that additional attacks would be conducted against the police.
March 2009: LeJ was suspected of involvement in the attack on the Sri Lankan cricket team in Lahore, but charges against LeJ co-founder Malik Ishaque were dropped because the prosecutors could not prove the claim of the case.
September 2008: three LeJ-trained operatives were killed in a police raid. The police also found bomb-making material and the body of a Pakistani businessman who had been kidnapped and killed by the operatives.
September 2008: former LeJ leader Qari Zafar is suspected of involvement in the suicide bombing of the Marriott Hotel in Islamabad.
July 2008: senior LeJ member Shafiqur Rehman was arrested in Quetta. He confessed to seven assassinations in Quetta and is suspected of involvement in over 100 cases of sectarian terrorism.
February 2008: LeJ member Fida Hussain, who is believed to have been involved in the suicide bombing of a Pakistan Air Force bus in October 2007, was arrested in Lahore; and January 2008: LeJ was suspected of involvement in a bombing near a mosque in Peshawar in which 14 people were killed.
These activities indicate that LeJ has not only been terrorizing Shiite Muslims or Hazaras but it has also a considerable role in targeting Pakistani civilians of other faiths as well. However, it has been proved that victims are most likely to be Hazaras in past few years.
On the other hand the Shiite Genocide has turned in to an ethnic minority cleansing. The incidents occurred on Hazara community members on the passengers' bus in Mastung; where the extremists stopped the bus and categorized Hazaras community members, took them off the bus, lined them up and shot them. The incidents in Spinni road, the rocket fire in Hazara graveyard in Brewery and other such incidents indicates that specific community genocide is taking place in Quetta city.
Lashkar-e-Jhangvi has published an open letter addressed the Hazara Community in Quetta, Pakistan.
Pakistan is packed up with dozens of religious outfits which constantly terrorize the Shiite Muslims in Pakistan and aims to turn Pakistan in to a complete Sunni state, primarily through violent means. Spiah-e-Shaba (SSP) is also known to be one of the most anti Shiite Muslims' terrorist organisations in Pakistan.
SSP is one of the five terrorist organisations which were proscribed by President Parvez Mushraf in January 2002, due to having terrorist activities within the country. Despite being a banned organisation SSP has been active with only just a change of name. SSP is renamed to Millat-e-Islamia Pakistan.
In 2003 SSP published a Religious Decree (Fatwa) declaring Shiite Muslims as "Infidels" and urging followers for taking extreme steps.
This evidence was found in Madrassa Dar-ul-Uloom Jamia Imdadia, Mari Abad Quetta, Pakistan which was published by SSP.
These terrorist organisations hold Iran as the sponsor of Shiite extremist outfits in Pakistan. A score of Hazara community members also migrated to Iran during the prosecution of Hazara minority in Afghanistan. The anti Shiite organisations still believe that Hazaras belong to Iran. Iranian government discriminate against Sunni Pakistani refugees in Iran, accordingly these extremist outfits target the Hazara citizens in Pakistan.
Hazara community in Quetta are paying for the discriminations against the Sunni Pakistani refugees in Iran. In an interview of BBC Persian reporter with one of the leaders of SSP Maulana Ahmed Ludhianvi last year, the leader said, "Sunni Muslims are not given their rights in Iran; even they can't work as an ordinary person.
We want the same in Pakistan; we will give those rights to Shiites in Pakistan which are given to Sunni Pakistanis in Iran." He also added that this country (Pakistan) is Mostly consist of Sunni Muslims, therefore we want the President, the Prime Minister, the Army Chief and the President of Supreme Court all to be Sunni Muslims.
To the end it refers that extremist terrorist organisations have been targeting only Hazara Minority in Quetta city from past few years, rather than it would have any religious color inside. The incidents occurred on Hazara community since past some years show that it is a war and genocide only against the Hazaras not the other Shiite Muslims.
In this article