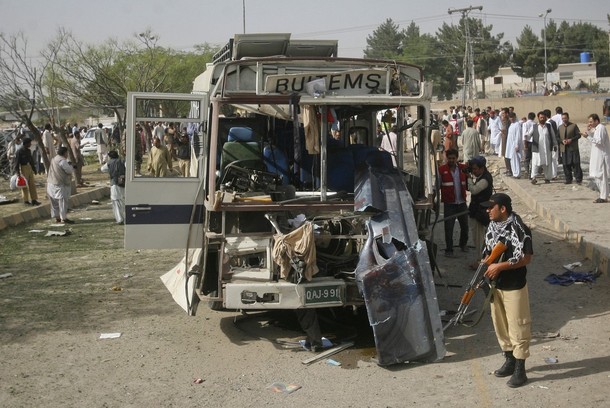 Five persons were killed and more than 50 others injured when a bus carrying Hazara students was targeted with a powerful car bomb in Quetta city of southwest Pakistan on Monday, officials said.
The bomb, hidden in a car parked by the roadside, was triggered by remote control when the bus reached the campus of the Balochistan University of Information Technology at Samungli Road on Monday morning..
The policemen were in a van that was escorting the bus.
Police officials said the bus was the target of the attack.
The blast created a crater that was three feet deep and about 10 feet wide. Officials of bomb disposal squad told that the bomb contained about 40 kg of explosives and metal pellets.
Security forces cordoned off the site of the blast, located in a residential area of Quetta, the capital of Balochistan province, and launched a search operation.
This was the latest in a string of attacks in Balochistan targeting the Hazara minority. Hundreds of Hazara have been killed, mainly in drive-by shootings, this year. The violence has been blamed on the banned Lashkar-e-Jhangvi, a notorious anti-Hazara ethnic group.

In this article