by: Dr Saleem Javed
"At least 60 people belonging to Hazara community living in Quetta have been killed in targeted attacks, including suicide, remote-controlled and timer device bombings and firing," says a report published in this newspaper, following a brutal attack on Shia pilgrims belonging to the Hazara community.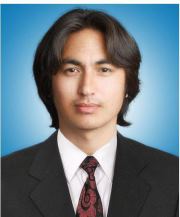 Thursday's bomb attack in the Hazarganji area on the outskirts of the provincial capital of Balochistan was not the first such attack of the year. Not even the first of the month. The Hazara community has been targeted, with great impunity, by outlawed militant organisations on at least six occasions in the current year. While all attacks have claimed precious lives, one of worst attacks against the community came last September, when a bus carrying Hazara passengers was stopped by assailants heavily armed with rocket launchers and Kalashnikovs. They identified Hazara men, took them off the bus and slaughtered them one by one within half a kilometre from a security check post. A similar incident was repeated a few days later in Akhtarabad area of Quetta. Some unconfirmed reports say "over 800 Hazaras have been killed in 24 incidents of mass-murder and 131 targeted ambushes since 2001."
Murderous motives
Responsibility for most of these attacks has been claimed by outlawed group Lashkar-i-Jhangvi, who have gone as far in their hate preach as declaring the community "wajib-ul-qatl" or deserving of death in their edicts handed out in the Balochistan province. Moreover, the community has been warned that its settlements in Hazara Town and on Alamdar Road will be transformed into graveyards as the war against them continues, according to a column published in this newspaper.
The killings have received mixed reactions and analyses from government officials, politicians and Hazara community leaders. Some blame security forces and intelligence agencies for the killings. Others point the fingers at the sectarian fanatics, Taliban and land mafia while some people even suggest a complex amalgam of all the aforementioned factors.
Role of security forces
While there is little doubt that all the attacks have been unprovoked and unidirectional without any apprehensions for many years, for Hazaras, the failure of security forces to protect their community remains an unanswered question.
"They have not failed. They have rather no intentions to protect us from the terrorists" explains Sardar Saadat Ali Hazara, a community leader.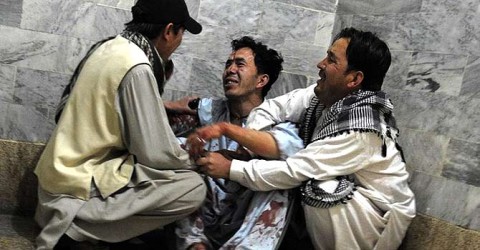 Members of the community allege that Hazara killings are designed as a counterinsurgency campaign to divert attention away from the activities of security forces in Balochistan.
"The Hazaras are being systematically killed because they are anti-Taliban and because they do not agree with the policy of strategic depth towards Afghanistan," says Tahir Khan Hazara, a political activist.
"They consider the Hazaras as pro-Northern Alliance and suspect our patriotism," says Zaman Dehqanzada of the Hazara Democratic Party (HDP).
Dehqanzada alleges that his community's 'refusal to fight the Baloch' has led them to become targets of unabated violence. "We are not going to destroy our relations with our brothers in Balochistan," he adds.
Meanwhile, a former chief sectary Balochistan revealed on the condition of anonymity that the state policy towards the Hazaras has dramatically changed since 2001. "They are kept away from sensitive administrative posts both in the armed forces and civil bureaucracy as they are considered, albeit falsely, pro-Iran and Pro-Northern Alliance just because they are Farsi-speaking Shias," the official said.
According to a recent report on the killings of Hazaras, the Frontier Corps (FC) believes that "the Hazaras are receiving funding from Iran to incite Shia revolution in Pakistan," a statement refuted by the community. How can a small community, they say, surrounded by military cantonment bring about Shia revolution in Pakistan?
We have repeatedly demanded targeted actions against Lashkar-i-Jhangvi, who are a handful of terrorists but the government and security forces have given us a cold shoulder.
While the FC also blames the Balochistan Liberation Army (BLA) for the Hazara killings. Hazara leader Sardar Saadat strongly disagrees. "BLA has no issues with the Hazaras. It is, in fact, Lashkar-i-Jhangvi operatives who kill the members of my community and roam freely all around. Everybody knows that they are being trained and protected in Qubo area of Mastung," he says.
Chairman of HDP Abdul Khalique Hazara is of the same view. "We have repeatedly demanded targeted actions against Lashkar-i-Jhangvi, who are a handful of terrorists but the government and security forces have given us a cold shoulder. Balochistan Home Minister Zafarullah Zehri has said on the floor of the provincial assembly that he had clues about those involved in the target killings but he was helpless. So we were forced to call international protests against Hazara genocide in order to pressurise the government to take actions"
Religious radicalisation
All the secular nationalist parties of Balochistan are of the view that religious extremism is thriving in the province in order to counter the activism of the Baloch nationalists. The nature of killings, they say, also indicates the same. Almost all the attacks on Hazaras have either taken place in the vicinity or in between two FC check posts – raising questions over the ability of heavily armed men to cross the check-posts, kill innocent civilians and escape on their pick-up vehicles without being caught or chased after.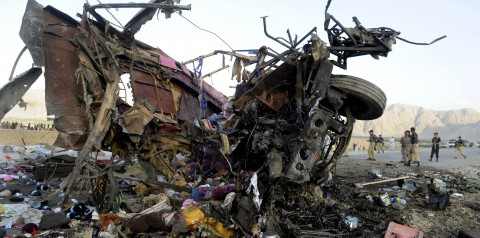 "If you look at the videos of the Mastung and Akhtarabad massacres released by the terrorists on YouTube, you will find out that all these incidents have taken place on an international highway, bustling with traffic but the terrorists seem in no haste as they slaughter our people. It takes them almost half an hour to accomplish their mission and not a single vehicle passes the site of the attack. How was the traffic blocked on both sides?" asks a Hazara activist, who wishes to remain anonymous for security reasons.
Asian Human Rights Commission (AHRC) issued a statement on its website a day after the Mastung massacre under the title of "Members of Shia community were under attack while the military forces look on" questioning the role of military establishment in such attacks. According to AHRC "more than 500 Shias have been killed in terrorist attacks during the past three years after the FC received the powers of the police"

It further adds: "These campaigns against the Shia religious community is very well known to police, FC, the army and its intelligence services but no action has been taken against the Lashkar-i-Jhangvi."
According to columnist, Aziz-ud-Din Ahmad, "Attacks on the Hazara community started only two years after former president and army chief General Pervez Musharraf's coup. These coincided with the period when agencies were directed under a master plan to give religious parties and militant groups a free hand."
Talibanisation of Balochistan
The Taliban had massacred tens of thousands of Hazaras in Afghanistan during their reign in Afghanistan and had warned them to leave the country. The Hazaras of Afghanistan were part of the so-called Northern Alliance which resisted Taliban's rule and later on allied with the international forces to overturn the radicals. To avenge their defeat the Taliban pointed their guns towards the Hazaras of Baochistan by allying with LeJ and Al-Qaeda operatives.
In an open threat letter distributed at Hazara localities in Quetta Lashkar-i-Jhangvi warned the Hazaras to leave Pakistan by 2012 and in another, they vowed to continue targeting the community in Pakistan, particularly in Quetta.
For the community, being targeted repeatedly and labelled as conspirators is heartrending as they take pride in their role as servants of the country ever since its creation.
History of Hazaras in Pakistan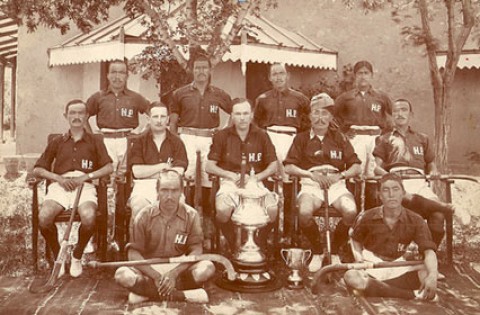 The Hazaras are believed to be the descendants of Kushans who, in the sixth century, built giant Bhuddas of Bamiyan in Hazarajat of central Afghanistan. The Buddhas were dynamited and destroyed by the Taliban in 2001. The native language of Hazaras is Dari (Farsi) and they mostly adhere to Shia Islam. The very first group of Hazaras migrated from Hazarajat of Afghanistan to British India and served in "Broadfoot's Sappers" from 1839–1840.

The 106th Hazara Pioneers – Photo courtesy author
In 1904, Lord Kitcherner the Commander-in-Chief in India directed Major C. W. Jacob to raise a battalion of Hazara Pioneers, which led to the birth of the 106th Hazara Pioneers with drafts from the 124th Duchess of Connaught's Own Baluchistan Infantry and from Major Jacob's own regiment.
The 106th Hazara Pioneers were renamed "The Hazara Pioneers" in 1929. As a result of the financial crisis in 1933, all Pioneer Regiments in the Indian Army, including the Hazara Pioneers, were disbanded. According to Brigadier N. L. St. Pierre Bunbury, "the Hazara Pioneers was the best shooting regiment in the Indian Army."
Military services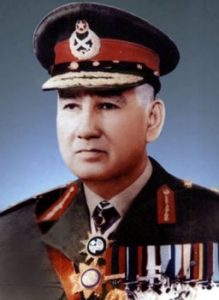 Inspired by The Hazara Pioneers and because they had no land in Balochistan, the Hazaras either joined the Indian army or established small businesses in Quetta city. One of them, General Musa Khan Hazara (Hilal-e-Jurat), joined the Indian army as a jawan (soldier) who later served as the Commander-in-Chief of Pakistan army from 1958 to 1966. He also served as governor of West Pakistan and Governor of Balochistan from 1985-91.
General Musa Khan Hazara (HJ) – Photo courtesy author
The trend of seeking commission in the armed forces did not cease and another Hazara, Air Vice Marshal Sharbat Ali Changezi, also reached the upper echelons of Pakistan Air Force. Hazara women, too, followed suit. A Hazara girl, Saira Batool, is among the first female pilots in Pakistan Air Force.
Civil services and politics
Hazaras also played an important role in the formation of Pakistan. A Hazara politician, Qazi Mohammad Essa (his son, Faiz Essa, is the present Chief Justice of Balochistan High court ), was the founder of Balochistan Muslim Leauge who represented Balochistan in Lahore Resolution in 1940.
In spite of having a population of only about half a million, the Hazaras have been prominent in provincial and national politics. The community's political party, Hazara Democratic Party (HDP), founded in 2003 describes itself as a secular, liberal and nationalist party whose founding chairman, Hussain Ali Yousufi was assassinated by Lashkar-e-Jhangvi on January, 26, 2009 on Jinnah road, Quetta. A Pakistan People's Party MNA from Quetta, Syed Nasir Ali Shah, is also a Hazara.
The Hazara community has given birth to some of the best national sportsmen such as legendary footballer, Qayyum Changezi, three-time Olympian boxer Syed Ibrar Hussain Shah, who was assassinated on June 16, 2011.
While the community continues to reiterate its support for the country and refutes all claims of the presence of anti-state elements, it remains unclear why the government and security forces have been unable to curtail the hate crimes and broad-day-light massacres of Hazaras.
"All around the world, it is always the smallest, most peace-loving, least politically connected groups that are selected as targets by those seeking to scare the populations they seek to control," Rafia Zakaria opined in her column on violence against Hazaras. Indeed, if her words are to be understood, the signs are ominous for the already scarred province of Balochistan.
Dr Saleem Javed is a freelance journalist and human rights activist based in Quetta.
In this article