Hazara People International Network: We have read many books and articles referenced to a book titled "Genetics: Analysis of Genes and Genomes" claiming the Hazara people are Mongolian and to be direct male-line descendants of Genghis Khan. This book is authored by Daniel L. Hartl and Elizabeth W. Jones.
Here is a screenshot of page 308, where the authors have tried to trace Genghis Khan's connections.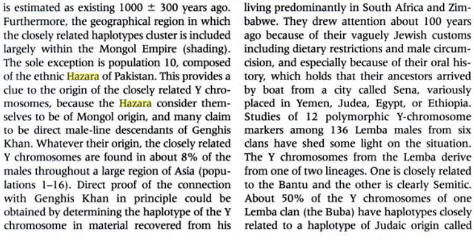 You can read this book on Google Books website.
Authors claim "The Hazara consider themselves to be Mongol origin, and many claim to be direct male-line descendants of Genghis Khan".
Hazara People International Network is in contact with thousands of the Hazaras around the world, and is working closely with them to establish the Hazara rights. Hazara People International Network is also in contact with many Hazara social, cultural and political organizations inside Pakistan. None of these Hazaras consider themselves as the Mongol.
Furthermore, the authors claim is not based on any DNA test, and they didn't have one single DNA sample of the Hazaras. Therefore using this book as a reference to Hazara genealogy is absolutely wrong.
Hazara people are Turkic people and descendants of the Kushans. Like other Turkic peoples such as Uzbek, there maybe is Mongol influence in less than ten percent of Hazaras. Hazara people are living in Afghanistan, Iran, Pakistan, India and central Asian countries like Turkmenistan and Kazakhstan. Millions of Hazara people were and are forced to leave their homeland, the country we call Afghanistan now.
In this article