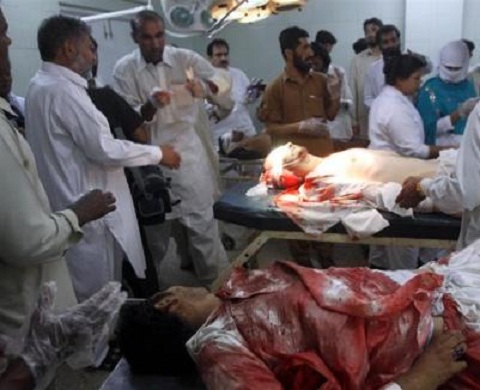 By Associated Press, Updated: Thursday, October 18, 12:09 PM
QUETTA, Pakistan — As he knelt in prayer to mark one of Islam's holiest days, Ali Raza Qurban saw a childhood friend and dozens of others die in a suicide attack on their Shiite mosque. Sunni militants were again targeting minority ethnic Hazaras in this city of narrow streets and wide-open hatreds.
Qurban decided it was time to leave. He found an agent who would hook him up with a smuggler in Indonesia and, for $8,000, get him to Australia.
But he never made it to Australia. He disappeared on Dec. 17, 2011, aboard an overcrowded, rickety wooden boat that capsized within hours of leaving the Indonesian shore.
Four months had passed since the suicide bombing at the mosque in Quetta, where the violence has spawned a vibrant human smuggling business. The smugglers operate out of small, unidentified shops. Selling promises of a safe and better life in Australia, they largely capitalize on the fear and desperation of the Hazara, a largely Shiite community that is facing attacks not only here but in neighboring Afghanistan.
In Quetta, Shiite leaders say many of the attacks against Hazaras are carried out by the Sunni militant group Lashkar-e-Janghvi, which they contend is backed by elements within Pakistan's intelligence agency, the ISI. Pakistan's Chief Justice Iftikar Chaudhry and a panel of three judges last month ordered authorities to investigate allegations that vehicles illegally imported by the ISI were used in suicide bombings targeting Shiites.
Most of the Afghans who cross into Pakistan with the intention of going on to Australia and elsewhere are thought to be Hazara.
"Every month hundreds of Hazaras leave Afghanistan for another country," said Waliullah Rahmani, executive director of the Kabul-based Center for Strategic Studies, a privately funded think tank. In the last two months more than 20 Hazaras have died in targeted killings blamed on the Taliban, he said.
Hazaras, who were massacred by Afghanistan's ruling Taliban in the late 1990s, fear that the religious militia will return to power after the departure of U.S. and other NATO service members in 2014, according to Rahmani.
"With 2014 getting closer, most of the Hazaras think that the history will repeat again," he said. "So that is why they risk their lives for illegal immigrations to Australia and other places."
Many choose Australia because it already has an established Hazara community.
The trip to Australia usually begins in Pakistan's port city of Karachi, stopping either in Thailand or Malaysia before arriving in Indonesia's East Java province, according to testimony of survivors and local Malaysian authorities.
"Asylum seekers from Pakistan often fly either from Karachi or Lahore to Kuala Lumpur and sometimes enter through Malaysia's northern border with Thailand," said a Malaysian home ministry official who spoke on condition of anonymity because he is not authorized to speak to the media. He said laws have been tightened in the last two years, sea patrols increased and cooperation has been stepped up with Pakistan and Afghanistan.
"The people-smuggling groups that facilitate them are generally Pakistani, but Malaysians are sometimes hired for logistics to help in transportation," said the official.
Once in Indonesia's East Java, asylum seekers are packed into boats bound for Australia.
The booming business is confounding the governments of Indonesia, which has hunted down and arrested some smuggling kingpins, and Australia, which is being bombarded with more refugees than it is willing to accept. Australia is trying to discourage prospective asylum seekers with new laws and with offers to take more refugees who choose to enter the country legally.
In August, Australia reintroduced offshore processing centers in Nauru and Papua New Guinea. Asylum seekers who are sent there will not be let into the country without going through the same process as those legally seeking protective asylum in Australia.
"The strategy underpins the key message that asylum seekers should think twice before getting on a boat to Australia, because they will be risking their lives at sea for no advantage," according to Australia's Department of Immigration and Citizenship.
In 2011 four boats sank, killing 109 people. So far this year 23 boats have capsized with 200 people still missing and 2,225 people rescued. Most of the passengers have been Afghans, Pakistanis and Iranians.
Afghans, mostly ethnic Hazaras, make up the largest number of so-called boat people, according to a report by Australia's Department of Immigration and Citizenship. In the first three months of this year, 797 Afghans sought asylum after arriving in Australia aboard dilapidated smugglers' boats. Iranians were a distant second with 132.
For those who seek refugee status entering Australia mostly by air, the odds are long. In the first three months of this year, Australia granted 215 primary protective visas and rejected 1,126, according to the report. The majority applying for those protective visas were from Pakistan and Iran.
And so many turn to smugglers.
In documents acquired by The Associated Press, the Pakistan government was told last year that Quetta, the capital of Baluchistan province, had become a thriving human smuggling hub. The documents, which originated from Pakistan's Embassy in Jakarta, were based on interviews with the 49 survivors of the boat that capsized Dec. 18.
More than a third of the passengers were ethnic Hazaras, including Ali Qurban, said his father, Saeed Qurban, who had gone to Indonesia's East Java in search of his son.
The elder Qurban, who cradled a framed photograph of Ali throughout an interview with The Associated Press, rifled through a small folder stuffed with newspaper clippings and documents. Several Indonesian newspapers featured front-page photos of Saeed Qurban crying as he searched rows of coffins.
The Pakistan Embassy document, based on interviews with survivors, said there appears to be "a mafia working in Quetta who is using the incidents of target killings and sectarian violence, unleashed against the Shia community particularly the Hazara tribe as a tool to instigate, motivate and persuade the youth to seek asylum in other countries."
"This mafia seems to be deep rooted and has an extensive network in different countries," the document said.
It described interviews with more than 25 Pakistani Shiites languishing in immigration detention centers in Indonesia after failing to reach Australia. The refugees all told of the same terror that drove them to leave Pakistan. None was willing to return to Pakistan, preferring to stay in jail in Indonesia in hopes of getting refugee status, said the document, which was given to the president and prime minister's office.
Yet the trade flourishes.
"Quetta is full of agents. Every day boys are trying to get to Australia," said Fauzia Qurban, Ali's older sister, occasionally burying her face in her hands and weeping as she struggled to tell her brother's story in an interview at her home.
Several agents refused to talk to the AP, and Fauzia Qurban feared for her family's safety if she approached those who helped her brother flee Pakistan.
But she had the name of the kingpin, Said Abbas, who she said orchestrated her brother's journey. Abbas operated out of Indonesia, hiring a phalanx of agents to recruit asylum seekers in Quetta, and is currently serving a 2 ½-year prison sentence in Jakarta for human smuggling.
Abbas, an Afghan national from eastern Ghazni province, was initially arrested in Jakarta in May 2010 but was released on bail. His involvement in the Dec. 17 tragedy was revealed by an Indonesian soldier, Ilmun Abdul Said, who went on trial in East Java for his part in arranging the smuggling expedition in which Ali Qurban died.
The boat that went down was 82 feet (25 meters) long and designed to hold 150 to 160 passengers. There were 249 on board when it sank. Ali Qurban was just 22 years old.
____
Kathy Gannon is AP special regional correspondent for Pakistan and Afghanistan and can be reached at www.twitter.com/kathygannon
___
AP writers Ali Kotarumalos in Indonesia, Sean Yoong in Malaysia and Kristen Gelineau in Australia contributed to this report.
Copyright 2012 The Associated Press. All rights reserved. This material may not be published, broadcast, rewritten or redistributed.
In this article