FOR much of the past decade, Bamiyan was the shining light for the US-led coalition in Afghanistan.
With its emerald green potato fields, snow-fed streams, pristine air and wealth of Buddhist relics, the central province is an area of extraordinary natural beauty. But it was the peaceful nature of the area that made it so valuable as an example of what could be achieved in Afghanistan.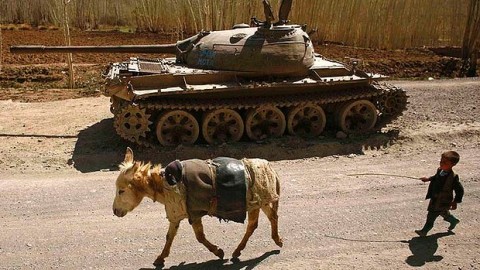 Populated by the minority Hazara ethnic group, Bamiyan suffered horribly under the Taliban, with many inhabitants abandoning their fields and fleeing to refugee camps in surrounding countries.
Not content with slaughtering the Hazara, the Taliban – dominated by the majority Pashtun group – blew up the famed giant Buddhas carved into a cliff in the 6th century.
But when the coalition invaded Afghanistan after the September 11 attacks, the Taliban were pushed out of Bamiyan, the Hazara woke from their nightmare and the province became a byword for peace and stability.
When this reporter visited Bamiyan more than two years ago, New Zealand troops drove around in unarmoured utes, waving to children. Locals were talking about enticing tourists to the province, which was a stop on the hippie trail in the 1960s and 1970s.
However, a farmer warned, "When the Taliban controlled this place, we fled to Pakistan, to Iran, to other provinces. Each household left one person here to watch over our land. We need the central government to protect us, so this does not happen again."
Fast forward 2½ years. Five NZ soldiers were killed in two separate incidents in August and The Wall Street Journal recently reported that Taliban fighters are roaming openly in parts of the province.
There are no Afghan army units in Bamiyan, security is in the hands of an under-equipped and demoralised police force and the governor has to fly to Kabul for meetings as the Taliban control the roads.
The asylum seeker – who cannot be named – the federal government is trying to force back to Afghanistan comes from neighbouring Ghazni province, which also has a substantial Hazara minority but is one of the country's most violent and dangerous provinces.
There have been reports of the Taliban beheading Hazara in Ghazni (and in the Australia-controlled Oruzgan).
With foreign forces leaving Afghanistan, the Taliban moving back into Hazara areas and the history of brutality against the minority group, it is hard to understand how the Australian government could claim it is safe for the asylum seeker to return.
But to admit it is not safe would be to admit the last 11 years of occupation have done nothing to improve the security of an oppressed minority. And that raises questions about what exactly Australia, the US and their allies have achieved.
In this article