by Andrew Buncombe,Independent
Thousands of Shia Muslims began burying their dead in a mass grave in Pakistan today, ending a three-day protest over one of the worst sectarian attacks in the country's history.
Members of the minority Shia Hazara community had been holding vigil next to the bodies of 96 people killed in twin suicide bombings last Thursday, as they demanded better protection from a rising tide of violence that has swept the south-western province of Baluchistan.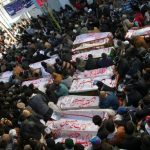 Senior Hazara figures in the provincial capital, Quetta, agreed to end their protest after the country's Prime Minister, Raja Pervez Ashraf, flew to the city yesterday and agreed to their demands to fire the local government.
He sacked the provincial chief minister who, rather than dealing with the crisis was in Cambridge reportedly trying to arrange a college place for his daughter.
After an angry phone call to the provincial leader, Mr Ashraf then imposed so-called "Governor's rule", which allowed him to sack the entire administration and place Baluchistan under direct control of the governor and the central government in Islamabad.
The Hazara make up a tiny percentage of Pakistan's population yet, for the past decade, they and other Shia groups have faced violence. Lashkar-e-Jhangvi, a banned Sunni militant group, has claimed responsibility for many of the attacks, including last week's. It wants to expel the Shia, who make up about 20 per cent of Pakistan's 180 million citizens, and set up a Sunni theocracy. Human Rights Watch says that at least 400 Shia died in sectarian attacks last year.
"The Hazara have been facing ever-increasing violence," said Sajjad Hussain Changezi, a Hazara activist in Islamabad. "And the LeJ is not just targeting Shias. Following this attack they threatened doctors who were treating Shia victims."
Mr Changezi said the Hazara had been ground down by the frequent attacks but the scale of last week's atrocities pushed them to take drastic action. Muslim custom dictates that the dead are buried as soon as possible, almost always within 24 hours.
Despite the bitter winter cold, the families of those killed last week had camped out alongside their relatives' corpses, wrapped in shrouds, in the streets of Quetta's Alamdar Road neighbourhood.
Public anger at the killings was intensified by the absence of Baluchistan's chief minister Aslam Raisani, who was at first reported to be receiving medical treatment in Dubai. It subsequently emerged that he was in the UK, reportedly trying to help his daughter find a university place. Last night, Mr Raisani told Geo News he was the victim of a conspiracy and those against him were trying to seize control of a hugely wealthy gold and copper mine.
"This was just an excuse," he claimed.
Today, hundreds of Hazara held ceremonies to bury the dead. "We are tired of burying our dear ones," Dr Zulfiqar Jaffery, 50, who lost his two brothers-in-law in the bombing, told Reuters, crying as he tried to comfort another relative. "Our government would feel our pain if they were facing the same situation."
In this article