BY KEVIN MAIMANN,EDMONTON SUN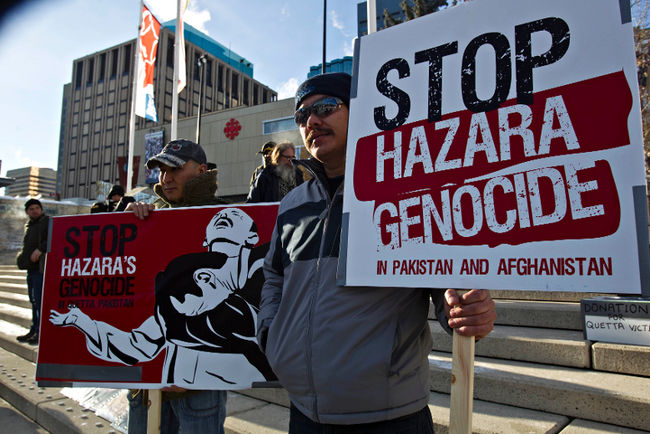 Dozens gathered in Churchill Square Sunday to protest the killing of Hazara Shias in Pakistan.
About 70 people, mostly part of an Edmonton coalition of Shia and Sunni mosques and community organizations, condemned the U.N., international media, and the Pakistani government for inaction on what they call an ongoing genocide.
About 100 Pakistanis, mostly Hazara Shias, were killed last week after two bomb attacks on a billiard club in the city of Quetta. It was one incident in a string of violent attacks on the minority group.

Demonstrator Bani Turkmani said Hazaras are being singled out and killed because they are a visible ethnic group, though Shia Muslims at large have also been targeted.
"In Pakistan, the Hazara people have been under target killing. As soon as they see a person that looks like Chinese looking or Asian looking, they're being killed," said Turkmani, who is a Muslim Hazara.
Turkmani's uncle owns a shop in Quetta that was targeted in one of the attacks. She said most of the protestors in Churchill Square Sunday have recently lost a friend or family member to a violent attack targeting Hazara Shias.
"The systematic genocide of the Hazaras occurring in Pakistan has left over 1,000, including women and children, dead and more than 2,000 wounded," she said, adding many Hazara students and professors in Pakistan have stopped attending school in fear of being killed.
She is calling on the U.N. and the international community to protect the Hazara people, and on the Pakistani government to prosecute the terrorists carrying out the attacks.
"I'm so fortunate to have this peaceful life. I'm living a beautiful life in this beautiful country," she said. "I'd like everyone to have this."
Protestors in Quetta have been blocking roads with the coffins of their relatives who were killed in recent explosions.
Many of the attacks have been carried out by terrorist groups like Lashkar-e-Jhangvi that are affiliated with al-Qaeda and the Taliban. Demonstrator Sabira Devjee, who identifies as Muslim, called on people of all faith groups to band together and condemn the killing of innocent people.
"We're here to condemn all genocide. We're all human beings," she said.
"As people, we need to come together. It does not matter what faith group you belong to."
Similar protests have been held across North America.
In this article