by Dr.Saleem Javed
Pakistan People Party's Nawab Aslam Raisani came to power at such a time when all the major nationalist political parities had boycotted the elections and the province was struck by separatist insurgencies which had gained new momentum after Nawab Akbar Khan Bugti's assassination in 2006. ??
This was coupled by the military establishment's change in its operational strategies towards Balochistan — from overt operations to more covert ones. As more and more Baloch nationalist activists began to disappear, more and more religious seminaries surfaced across Balochistan, aimed at converting the otherwise secular Baloch society into a religiously extremist one.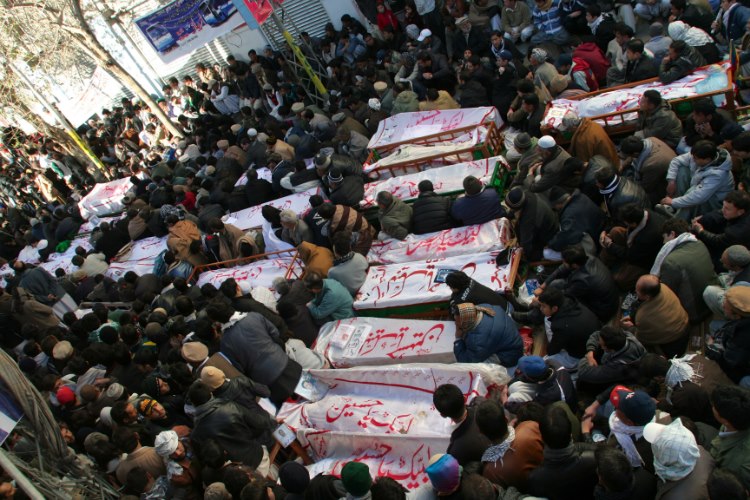 At the same time a huge number of Taliban fighters and hardliners had also taken refuge in Balochistan, particularly on the outskirts of Quetta, after their emirate was overthrown by the US-led NATO forces in assistance with the Northern Alliance. These Taliban fighters had now allied with sectarian outfits such as Lashkar-e-Jhangvi who are thought to have ties with Pakistan's military establishment. The Taliban-LeJ alliance, who are allegedly given a free hand to operate in Balochistan, is evident from one of their threat letters thrown into Hazara localities in Quetta last year: "Just as our fighters have waged a successful jihad against the Shia-Hazaras in Afghanistan, our mission [in Pakistan] is the abolition of this impure sect and people".
Meanwhile, the mainstream secular political parties of Balochistan such as Balochistan National Party (BNP) and Pakhtunkhwa Milli Awami Party (Pk-MAP) had boycotted the 2008 general elections which created a huge political vacuum in the province. This paved the way for some political opportunists to win the elections and form the provincial government with almost no opposition. Instead of showing commitment to resolving the core issues of the province, they were more interested in holding ministries and finding ways of embezzlement to further enrich themselves as they knew it was their first and last chance.
The already troubled province descended further into chaos as the number of mutilated dead bodies of Baloch activists increased, demand of a separate Pakhtun province accelerated and attacks on Hazaras quadrupled. Extensive deployment of non-local Pakhtun-dominated Frontier Corps in various parts of Balochistan created a sense of insecurity among the Baloch population which, some activists believe, was aimed at creating a Baloch-Pakhtun divide.
The FC has been generally blamed for being involved in extra-judicial killings of Baloch political activists and running a parallel government in the province. On the contrary, the Pakhtuns felt that they are being marginalized through district quotas in education and services and not given enough share in power as both Governorship and Chief ministership were held by the Balochs. The Baloch say that the power actually belongs to the Frontier Corps which runs a parralel government in the province. Mahmood Khan Achakzai of Pk-MAP increased his demand of division of Balochistan (and restoration of British Balochistan) after the US Congressional hearing on Balochistan in 2012. Even discussions over Quetta's city status and competition over its control reverberated in the drawing rooms.
On the other hand, Hazaras feel squeezed from all around for having been attacked by Lashkar-e-Jhangvi and Taliban while left out by both the provincial government and the Frontier Corps in addition to facing discriminations in educational institutions, government offices and civil services.
The ethno-sectarian biases towards Hazaras have been documented by a number of rights groups. A report by the Human Rights Commission of Pakistan released in August 30th, 2012 reads: "Hazaras have been already uprooted from Machh, Loralai and Zhob. It seems a campaign has been launched to terrorize the Hazara community so that they leave Quetta by selling their businesses and property at throwaway prices. Pamphlets have been left at their homes telling them to sell their houses and leave."
The report further reads "administration seems to bear ethnic and sectarian biases against the Hazara-Shia community. Since the new government assumed the charge, not a single challan (charge sheet) had been presented in courts against the accused. The accused are arrested in the morning and released in the afternoon. No government or public official had ever condemned the targeted killing of members of the Hazara community nor came to condole the murders or offer any compensation to the victims' families."
There were also reports of provincial ministers being involved in targeted-attacks, kidnapping for ransom and land grabbing. Despite the fact that Hazaras had voted for PPP candidates in the previous elections, the party's leaders sometimes even blamed the Hazaras themselves for the killings, instead of protecting them.
For instance, PPP MNA Ayatullah Durrani claimed during a live TV show that Hazaras kill each other to strengthen their cases of asylum in Australia. Such ruthless behavior enraged the community at large and not everybody considered this as an individual act.
Sectarian outfits such as Ahle Sunnat Wal Jama'at (former Sipah e Sahaba Pakistan) had no say in Balochistan before but in recent years they have managed to hold huge public rallies, conferences and congregations. They issue regular statements against Shias on local media but the province's main political parties have not practically done anything to stop it as they consider, albeit falsely, that the venom of sectarian terrorism does not hurt them directly. The continuous onslaught against Shias, Ahmadis and Hindus has actually helped the criminals and land mafia who are enjoying immunity.
Amidst utter hopelessness, helplessness, sense of insecurity and frustrations, Hazaras this time refused to bury the victims of the twin blasts on January 10, 2013. They staged a three-day long sit-in alongside the coffins of their loved ones in subzero temperature on Alamdar Road, Quetta, demanding removal of Nawab Aslam Raisani's government who had even mocked the community by offering "truckload of tissue papers for the bereaved families to wipe out their tears" after the Mastung massacre in 2011.
The protest was initially ignored by both the provincial and federal governments. However, as more and more people took to the streets across Pakistan and around the globe to express solidarity with the protesters, the Prime Minister of Pakistan, Raja Pervaiz Ashraf travelled to Quetta after three days and announced imposition of Governor's rule in the province. This move apparently convinced the protesters to bury the dead bodies but did not satisfy the community at large in terms of security assurances. They had no other options as their immediate demand was fulfilled.
However, Ahmed Kohzad, General Sectary Hazara Democratic Party (HDP), who went on a three-day hunger strike along with his party leadership and workers, is not satisfied with the outcome of the protests and vowed to "resume our protests peacefully and through various means if the government does not ensure our security which can only be achieved by a targeted operation against the terrorists. Our demand is targeted operations against Lashkar-e-Jhangvi and its affiliates."
"Military interventions and Governor's rule are not the solutions. We demand an end to the killings, by any means possible. If not, we will be forced to knock at the door of international communities," Ahmed replied to a question whether he thought the Governor's rule would solve the problem.
Nawab Aslam Raisani, who had earlier sacked Jan Ali Changezi (the only minister from the Hazara community) due to his protests against the killings, said in interview from London to a private TV channel, "I expected this (being sacked) from last three years." But he linked his removal to the Reko Diq copper-cum-gold mining project. "It [Quetta sit-in] was just an excuse. Sectarian killings take place everywhere, even in Indonesia," said the ex-chief minister.
The removal of Raisani government and imposition of Governer's rule caused an outrage among the political circles who were either directly affected by losing ministries or were critical of strengthening the undemocratic forces. Balochistan Assembly rejected the Governor's rule and called it 'unconstitutional'. They have warned President Asif Ali Zardari to undo the notification of governor's rule and if not, they would 'stage province-wide protest demonstrations'.
Some Baloch nationalist parties have also expressed concerns over imposition of Governer's rule and handing over policing authority to the Frontier Corps which, they fear, would be greatly used against Baloch activists. Nonetheless, the fact is that the Frontier Corps had been already enjoying policing authority in the past. So, other than removal of a spectator and helpless cabinet, nothing actually changed.
The fact is that attacks will not cease unless the terror networks are dismantled through targeted clean-up operations against Lashkar-e-Jhangvi hideouts and Taliban quarters in the province which seems unpredictable as long as the military establishment's policy of 'divide-and-rule' towards Balochistan and policy of 'strategic depth' towards Afghanistan remain unchanged. Not to forget that Hazara leaders had at times blamed the Frontier Corps for its unwillingness to arrest the attackers.
Having said this, the frequency of attacks on Hazaras may decrease for a couple of months until a new civilian government replaces the current one to stand at the receiving end of the blame. At the same time, the Frontier Corps might apprehend a couple of low level LeJ operatives (to be released later, as usual) amidst an effort to make some headlines but the main target might be Baloch nationalists and seperatists.
Last but not the least, there is a huge fear of ethnic and sectarian conflicts in the province if the situations remain the same. It is up to the people of Balochistan to either unite and fight to save their habitat or let the fire burn the whole jungle as it will not remain limited to just a single communityor area.
source

The author is a freelance journalist and human rights activist from Quetta. He can be reached at dr.saleemjavid@gmail.com
In this article