by: Jason Burke
Community leaders, campaigners and students from the Hazara community in Pakistan have reacted angrily to the announcement from the prime minister, Kevin Rudd, that all asylum seekers who arrive in Australia by boat will be sent to Papua New Guinea for processing and resettlement, and none will be allowed to stay in Australia.
Calling the new policy "shameful" and "inhuman", Hazaras interviewed this weekend denied that they were economic migrants hoping to get rich in the west.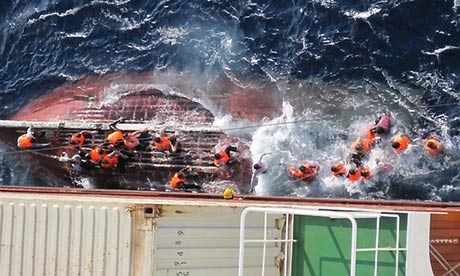 A high proportion of those arriving in Australia by boat are Hazara, an ethnic minority in Pakistan, Iran and Afghanistan which has historically suffered persecution. Most pay substantial amounts of money to be smuggled across Malaysia and Indonesia before being put on boats to Australia. Several hundred have died in shipwrecks attempting the journey.
"We are being bombed and shot at every day. If we could stay here we would prefer to be here with our families and friends. But we don't want to be killed," said Ahmed Kohzad, a campaigner in the south-west Pakistani city of Quetta, where many Hazara live.
Riyazaat Ali, a 27-year-old Hazara student who has fled Quetta for the port city of Karachi, a jumping-off point for many refugees, told Guardian Australia that the Australian government's decision was "worse than the biggest bomb blast".
"It is an inhuman and shameful decision. Now we are completely hopeless here," he said. Ali added that a close friend had died in a shipwreck while trying to reach Australia three years ago.
Last week four Hazara men were shot dead by gunmen in Quetta. Nearly 30 died in a bomb blast three weeks ago in a Hazara-dominated neighbourhood of the city. Two bombs earlier this year in Quetta killed nearly 200 people, mainly Hazaras.
Rudd said the new measure would send "a clear and undiluted message to every people smuggler in the world that your business model is basically undermined" and that it would apply initially for one year.
Zohra Yusuf, chairperson of the Human Rights Commission of Pakistan, called the measure "disturbing".
"It is Pakistan's own shame that the Hazara community feel unsafe in their own country but it is very worrying that another option for them has been shut down. On humanitarian grounds they should not close the door on people who are desperate," she said.
The Hazara are Shia Muslims and are frequently targeted by extremists from among the Sunni majority in Pakistan. There are about 500,000 Hazara in Pakistan and about 3 million in Afghanistan.
Some Hazaras try to travel to Europe but most believe that reaching Australia gives them more chance of finding a safe haven. Australia also already has a large Hazara community.
Kohzad, the Quetta-based campaigner, said the policy would cut the number of those seeking to travel to Australia.
"It will definitely make a change. Many will not go because of the new policy," he said.
Sadiqa Sultan, who runs a community TV channel in Quetta, described Australia as "the only hope".
"There is despair. But the risks of staying here are higher than leaving," Sultan, 28, told Guardian Australia.