Quetta: Six people, a woman and a child of Hazara community among them, were killed and at least 24 others injured in a suicide attack here on Saturday night.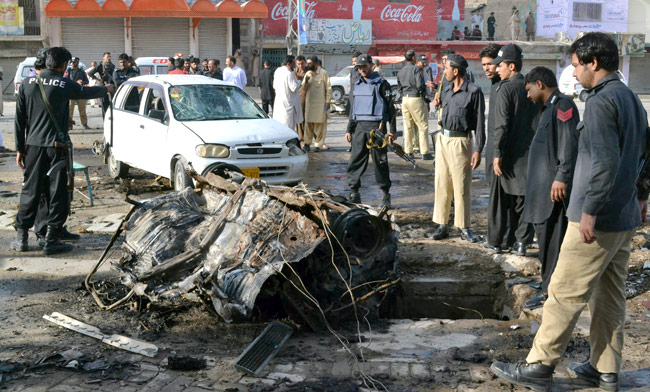 The powerful blast occurred close to a girls' school at Hazara town in the capital of restive Baluchistan province.
Hazara town is inhabited mainly by the ethnic Hazara minority, which has been often targeted by extremist militant groups in the past.
The injured were being rushed to the Bolan Medical Complex Hospital and Combined Military Hospital (CMH).
A Balochistan government spokesman said emergency has been declared at all state-run hospitals.
The blast was heard far and wide, causing panic among people who ran helter-skelter. Some people also resorted to aerial firing before rescue teams and police official reached the spot.
"There was a crowd of people at the site when the bomb went off," said police official.
Last year, there were two major suicide bomb blasts in Hazara town, and in late June a suicide bomber blew himself up at the site of tonight's blast. At least 30 people were killed and 70 injured in that blast.
In February last year, around 110 people were killed and 200 injured when a suicide-bomber rammed a tanker filled with explosives into a three-storey building in a market area of Hazara town.
Banned militant outfit Lashkar-e-Jhangvi claimed responsibilities for these attacks.
In the past few years, the provincial capital has also been a flashpoint for sectarian violence mainly targeting the ethnic Hazara community.
In this article