The mother of a six-year-old girl who was strangled to death last month has appealed to the authorities to publicly execute her daughter's murderers so that the criminals are taught a sobering lesson.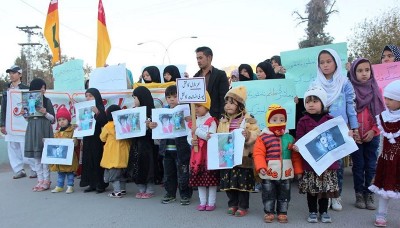 "I appeal to the government and law-enforcing agencies to publicly hang the murderer of my six-year-old-daughter Sahar Batool. Such exemplary punishment will help teach such cruel criminals a lesson," said the wife of Ghulam Sakhi Khan.
Sahar, a student of first grade, was kidnapped and brutally killed on October 28. Even two weeks after Sahar's death, her parents are awaiting justice.
"We are from the Hazara community, and do not have any enmity with anyone," she said. Members of the Hazara community are convinced that Sahar was tortured and killed because of her sectarian background. Protests have been staged across the country in the hope that justice will be served.
"Where should we Hazaras go when our children are killed in front of our house?" asked the girl's mother.
Police officials insist that their initial investigations show that the child's murder had no sectarian undertones whatsoever. "A couple of such incidents have taken place in the last six to seven years in Quetta," said SHO Asim Shah of Bijili Riad police station. "It would be premature to conclude that the motive was sectarian hate," he said. Some 13 suspects were briefly detained earlier as part of the police investigation into the case.
According to Qayyum Changezi, chief of the Hazara jirga, the inspector general of police had said that two culprits had been identified in the girl's murder case. "We had a detailed meeting with the IG police on Monday and he said the case is close to being concluded," said Changezi. "That is what the IG told me during the meeting, and said he would reveal the details regarding the investigation within two days."
"After an hour I told her father who was at work. Some four hours later, a neighbour told me that someone had dumped the body of my daughter near the garbage dump," she said. She was tortured before she was strangled to death. According to Asim Shah, SHO Bijili Road police station, the postmortem report states strangulation as the cause of the death and there were marks of violence on the body.
When asked about the process of investigation, the bereaved mother said that she would be more satisfied if the military did it, rather than the police.
"My daughter was too young to die. How can someone brutally kill an innocent child? Now, I am too scared to send my children outside," her mother said, sharing that Batool did not know Urdu well but was very bright in studies. "God will do justice," said the mother and broke down in tears, unable to continue the conversation.
In this article