By Mohammad Zafar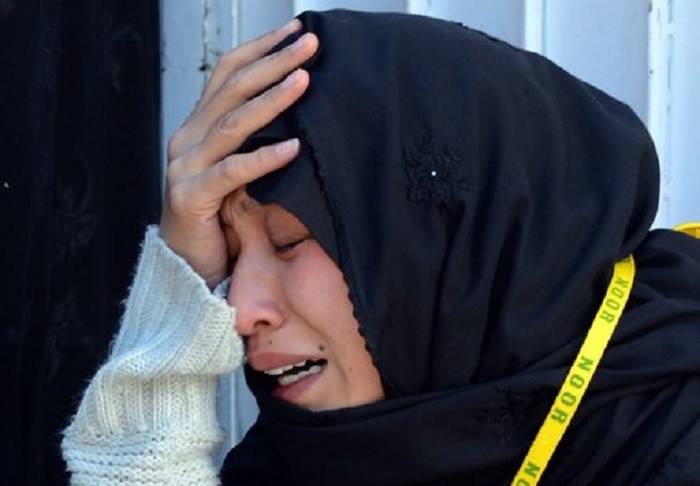 Living a life without a male member is next to impossible for a woman in a male dominated society like Balochistan. However, when it comes to the Hazara women, the tale of their dependency and woes reveal heart-wrenching stories. Their lives are surrounded by countless problems ranging from the burden of livelihood expanses to health and education of their orphan children.
55-year-old Aiziza is living in a rented house at Hazara town with her 20 years old daughter Aqila. She lost her husband, Ghulam Hussain, 70, who was a vegetable vendor, and died in a bomb blast outside at his cart just ahead of Eid festival.
They pay eight thousand rupees for a month for their rented house. Aziza and her Daughter are being helped by their neighbor for livelihood-food and other necessities of life. "My husband promised of shopping on Chaand Raat for me and my daughter," she recounts, "explosion eroded my all happiness." "Our Eid day passed in sobbing with the funeral prayer of my husband," she said.
She questioned as to why her community is being targeted since they have not committed any such crime which should be awarded with such brutal punishment. "Is my crime is sect or do I look strange?" she questioned.
"For what crime my husband was killed?" she questioned with tears welling down from her eyes, adding that without a male member it is impossible to go out from Hazara Town. "Our only resort for treatment and healthcare is the un-registered doctors as we can't go out for the very purpose," she said.
Yet such another case is that of a lady named Madina. She is a widow and a mother of six children. Her husband, Nadir Shah, was a taxi driver who was shot dead by unknown assailants. Her all 6 children are in schooling age and her children's studies expanses are born by NIMSO (HELP) organization.
Kishwar is also resident of Alamdar road whose husband was killed in a targeted killing in 2010. She is tense so much so that she has grown psychological problems. She is mother of three children-two daughters and one boy. Her son Sadiq Sultan 16, talking to this correspondent, said, "I appeared in metric exam-secondary school. And now am working in a shoe shop. My mother makes me 10 to 15 calls daily when I'm out of home," she said. She cannot remain outside home for long time because of her mother's psychological problems. She questions me repeatedly as to where I am.
The elected councilor from Hazara Town, Ahmad Khuzad says that there are more than 700 families who are taking help from different organization and local people.
"I am not satisfied with the security arrangements by the government and we are facing threat every month for fear of something to happen with our community," he said and added that the 700 survivors don't have the health facilities and all of them are living in rented houses.
He said that the routes leading to their areas are being closed by security personnel because of the threats, adding now only a single route of Spini Road remains open. "Arbad Karam Khan Road and Kirani Road are also sealed off which creates problems for us," he said. He said that families face health problems and are dependent as they lost their bread winners. They cannot afford not healthcare for their children for lethal diseases like Hepatities B. "There no good hospitals in our area," he said. NIMSO (HELP) an organization which is working for education of only Hazara Community children in Marriabad and Hazara Town. Nimso is a word for Hazaragi which means Help.
NIMSO President Abdul Ali said that the reason of establishing the organization is to help the community who had been subjected to frequent deadly attacks from 2010 to 2012. The organization aims at providing education to the people belonging to Hazara community. In the wake of these attacks, the philanthropists of Hazara community have decided to establish an organization to work for education and give free education to surviving families.
We organized a donor conference in 2012 where all of our community people shared their money and they contributed 5.6 million for organization. "We are supporting 400 families for education in both areas," he said and adding, "NIMSO organization is providing the books, school clothes, shoes to children." These instances best reflect how the lives of woman are marred by dependency in the society and are haunted by threat and fears of losing their loved ones. The government has to extinguish the craze of sectarianism and develop interfaith harmony to provide a relief to the most vulnerable sections of the society.
This report was published on Daily Balochistan Express Quetta on November 29, 2014.
In this article