By Chloe Booker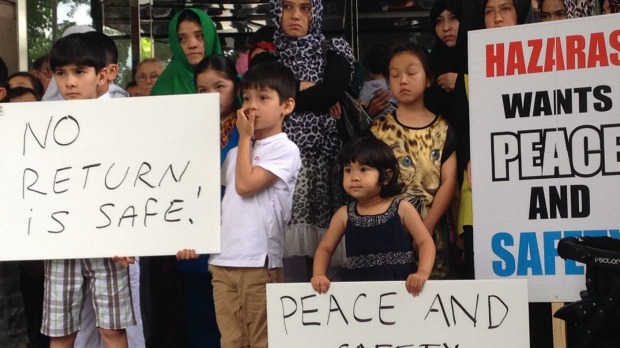 Protesters say a Hazara asylum seeker faces death if returned.
Refugee advocates say they fear a Victorian Hazara asylum seeker will be killed when the Federal Government sends him back to Afghanistan on Wednesday.
More than 150 Hazara and refugee advocates protested against his deportation outside the Immigration Department's Melbourne offices on Sunday holding placards such as "no return is safe" and "Hazarans face genocide".
Gulistan, 33, will be the third Hazara, and the first from Victoria, to be sent back to war-torn Afghanistan since forced removals began in August.
Pamela Curr from the Asylum Seeker Resource Centre said DFAT advice that Afghanistan was now safe was incorrect and that it was more dangerous than ever for Hazara.
"The strategy seems to be to pick Hazaras out at random and then issue them with a letter and send them back," she said
Ms Curr said the first man to be sent back, Zainullah, was captured and tortured by the Taliban within weeks of his return before he subsequently escaped.
The second, Abduallah, is trapped in Kabul unable to make the journey back to his family in Jaghori out of fear he would be killed en route on a road known as the "highway to hell".
Australian citizen Sayed Habib Musawi, who went back to Jaghori in September to visit family, was pulled off a bus on his way and shot by Taliban militants.
Protest organiser David Ahmadi said Gulistan had been living in Dandenong for three years before he was detained at the Maribyrnong Detention Centre last week.
"If they deport him, he will have to take the exact same route back to his village," he said.
Mr Ahmadi said about 100 more Hazara in Victoria, who also had made unsuccessful refugee applications, faced the same fate.
"The murder of Sayed Habib and the torture of Zainullah occurred in the precise manner that these men facing removal have been saying would happen to them," he said.
Fairfax Media was asked not to use the men's last names for their protection.