By Munira Abbas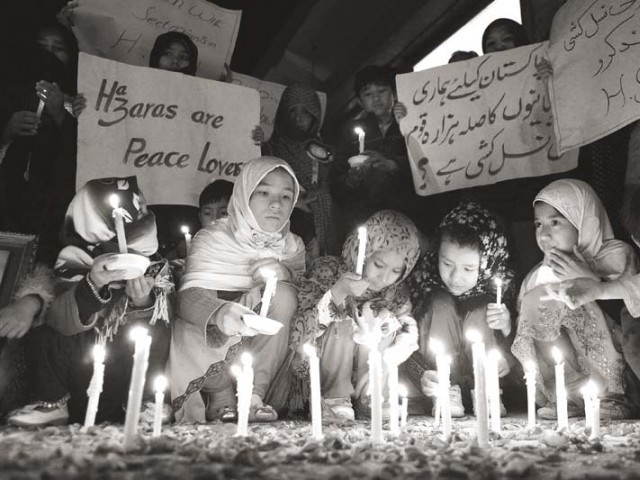 Hazaras light candles for peace against sectarian attacks in Quetta on February 15, 2014. PHOTO: REUTERS
QUETTA: Twenty-three-year-old Mehrin Kausar sits in front of the stove at her modest residence in Marriabad on Alamdar Road, staring at the swaying flame that her family's meal simmers on. In her eyes, however, the fire to go back to university burns brighter.

Straddling the city of Quetta, Alamdar Road and Hazara Town are heavily- guarded by army check posts at their entry and exit points. Forced to live in isolation, many young and eager Hazaras yearn for an equal shot at higher education. Kausar was in her fourth semester — a BA Zoology student at Sardar Bahadur Khan Women's University — on her way to becoming a vet, when her life was jolted by an ear-shattering explosion in January 2014. A suicide bomber killed at least 22 pilgrims on a bus that was making its way through the Pakistan-Iran highway in Mastung district. Among the deceased were Kausar's mother and sister. "We were coming from Taftan towards Quetta at 3am. There were two buses and we were advised to wait for the other one which had broken down. We had been waiting for just 10 minutes when the bomb exploded," recalls Kausar.
With Kausar and her father requiring treatment in Karachi, the consequent trips to and from Quetta and the port city put her pursuit for a higher education on hold. She tried studying at home to complete her remaining four semesters. "But if you can't attend classes, it gets tough," she explains. Kausar is undergoing treatment for the shards of glass that injured her eyes during the blast but her vision is still blurry. "University buses used to come to our area before but now they don't," says Kausar, and begins to narrate yet another attack she could have been a victim of. In June 2013, a remote-controlled bomb was detonated aboard a bus in the parking lot of Sardar Bahadur Khan University, killing 14 female students and injuring as many as 19 others. "There were approximately 50 girls on the bus. I was absent on the day of the blast."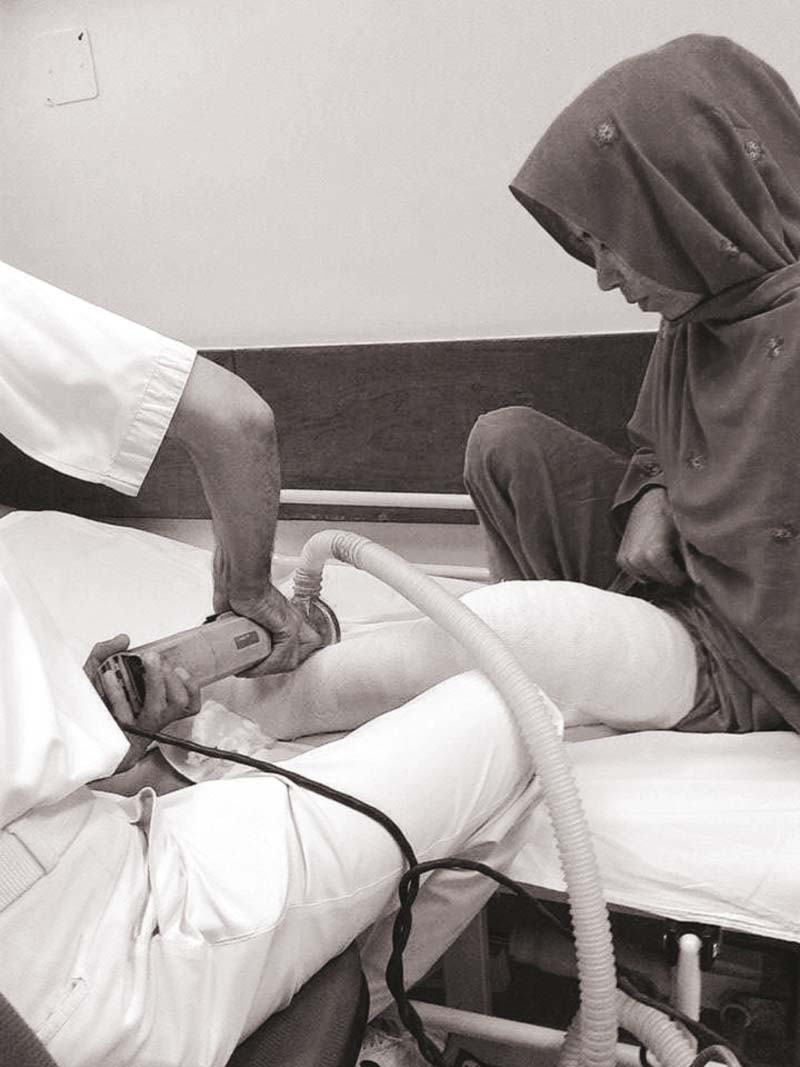 Zubaida Akhlaqi receives treatment after being injured in a February 2013 blast in Hazara Town. PHOTO COURTESY: ZUBAIDA AKHLAQI
Hazara students now have no option but to go to university on their own. No rickshaws are allowed inside Marriabad and Hazara town, and the ones inside can't go out. Everything is more expensive on Alamdar Road and in Hazara Town as a result. Even the one proper varsity in Quetta, Balochistan University, offers no security to Hazaras, especially during their commute. Their distinct features make them vulnerable to targeted attacks and as a result most Hazaras feel insecure. "We are prepared that anything can happen anywhere. Sometimes I get scared even when I'm at home," says Kausar.
University of Balochistan's Public Relations Director Ameer Hamza Baloch agrees, adding there were many Hazaras studying in the varsity before, but only a few can be seen around campus now. "As target killings increased, their number decreased," he says without a hint of irony. Zubaida Akhlaqi, 19, another survivor of a deadly blast was in her second year of intermediate when an explosive planted in a tanker tore through the packed bazaar of Hazara Town on Kirani Road in February 2013. Over 60 people lost their lives and among them were Akhlaqi's mother and aunt.
Her memory of the day is understandably hazy. She says she was walking through the market, and then the next thing she remembers was waking up in a hospital. Her legs have lost some of their utility and she cannot move her feet properly. She can't hear properly either. Two years on, she is still undergoing treatment for the injuries inflicted in the brutal bombing. "I want to get an education. I want to prove myself to everyone who calls me disabled," shares Akhlaqi, adding she is waiting for someone to help her get admission into a university.
Twenty-seven-year old Karrar Hussain, however, did not wait for things to improve in Quetta. "It's a 40-minute ride from Marriabad to Balochistan University and a very dangerous one at that. So my family did not let me go there. They were afraid that I would never come back. So I had no choice but to leave my hometown for higher studies," says Hussain, who is now enrolled at the National College of Arts in Lahore. "My former classmates are doing odd jobs as labourers, mechanics or shopkeepers. I could move to another city because of my family background, but less affluent students can't."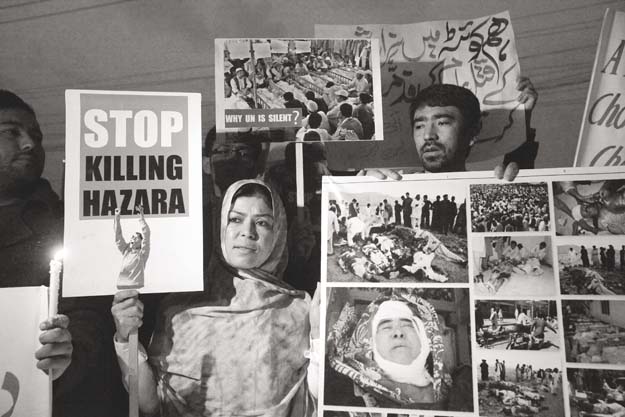 Members of the Hazara community and various NGOs present at a protest in Lahore against the twin bomb attack in Quetta in 2013. PHOTO: REUTERS
Hussain also blames authorities for the isolation of his community. "Frontier Corps have sealed the whole area in the name of security, just as the Germans had done to the Jews. If a lion attacks a neighbourhood, do you imprison the lion or the whole neighbourhood so that the lion can roam freely?" he asks rhetorically. "The government knows what is happening. They are closing all the doors on us. No teacher will be willing to come here even if you build a university," says Hussain.
A student of Girls Degree College in Quetta, Birori, adds limited choices are obstructing the education of Hazaras, especially girls. "There is only one university in Hazara Town, Sardar Bahadur Khan Women's University, and a college that offers a two-year BA or computer courses," says Birori. "This is not enough. Boys go to other cities, but girls have to stay and make do with the limited options."
In this article