Saleha Soadat's press statement
 Dear friends and fellows,
As you may aware, I was expelled from my job with the Tolo News earlier this month after I shared a tweet via my personal account about unpopular incident of Jalriz District of Maidan Wardak in which tens of local police officers were brutally killed by Taliban.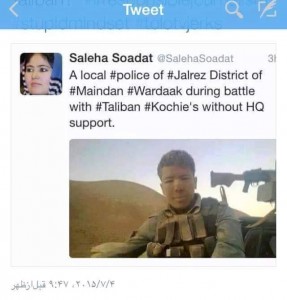 The tweet in which I noted the association of nomads (Kuchis) and the Taliban in carrying out the attack was strongly substantiated by sufficient evidence. Unfortunately, the senior officials at Tolo News without asking any question or explanation ignored all the professional and legal due processes.
 Journalism as the fourth pillar of a democratic structure is expected to disclose realities for public audience without involving its own judgment and evaluation of them. With this basic principle ignored, the career simply loses its philosophy of existence and is meaningless.
Tolo News, by immediately terminating my contract, not only violated all principles of freedom expression and the achievements in this area which are gained at the expense of the lives of too many journalists, it has also acted against all moral standards of the profession and professional regulations and has severely damaged its own image as a credible news outlet in Afghanistan.
Tolo News terminated my contract for my tweet about the unpopular Jalriz incident while it has failed to provide any explanation on how the tweet could possibly violate any law, any clause of my working contract or the general principles on which the journalism profession in large and the agency in particular operates.
Tolo News leadership decided to dismiss me while in too many instances; some of my former colleagues from different departments of Tolo News have discussed controversial issues and endorsed personal opinions not only through their personal social media accounts, but also on their respective TV programs.
They even gone far beyond verbal discussions and have ended up to physical clashes that sometimes have violated individual privacy. Similarly, they have shared posts that are considered as direct offense against particular ethnic communities in the country. These people not have been fired, neither asked for any explanation.
 Dear fellows,
We all well aware of the challenges and threats accompany the life of an ordinary woman in Afghanistan. With risks associated with journalism profession, the ordeals and hardships of a female journalist in Afghanistan is only conceivable by one of her own—another Afghanistan female journalist.
Understanding the situation, I so consciously prepared myself for the risks and wanted to be a journalist. I am proud to say in cases I have discovered and disclosed reality at the expense of my life. For the past years that I have worked with media, I have committed myself to strengthening freedom of expression and contributing for democratic society in Afghanistan.
Today however, it is very unfortunate that the reward for all my efforts from a media outlet, which my work has chiefly contributed, to its credibility and recognition is termination of my contract. This is a plain proof of how unprofessionally and irresponsibly they act against the very values of a democratic society and free media—values Tolo News strongly claims their promotion from its prime missions.
I understand that working, as a journalist in such environment is very difficult. I hope the price we pay for this cause is not too heavy. It is important to question that the largest media outlet of the country how much value and respect does pay to its members and staff. Corruption is widespread in the country that includes misuse of authority, behaving irresponsibly using his power and networks of the powerful people, violating principles and discriminating based on ethnicity, believe and gender.
But, this is not about me it is about us. First, it is about all journalists who have been victims of such irresponsible behaviors—my colleagues for whom I am the embodiment of their sufferings. Second, it is about Afghan women who have been always the prime victim of discrimination and prejudice. It is also significantly about the free media as the indisputable achievement of recent decade efforts of Afghans and their international allies.
Today, here I stand speaking as a victim of discrimination and corruption and for Afghanistan's free media and struggling democracy. I ask all alerted consciousness and civil society groups to hear this voice. I ask you all to stand by my side to advocate for freedom, justice and democracy.
While Tolo News terminated my contract without any hesitation and consideration of its professional responsibility, I am sure the questions we raise and the advocacy we do will put Tolo News in a position to feel obliged for accountability. It will question its credibility and independence. Tolo News can choose between keeping its credibility in the history and plunging itself into the depth of scandal and triviality.
Thank you
Saleha Soadat
In this article