By  Nick Toscano, Workplace Reporter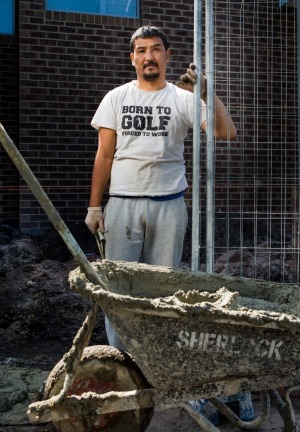 How sweet it is to wake to a new day – a day with a shape, a day with meaning. Hamid Ali rises early. He pours tea into a thermos, pulls on a vest and steps outside into the morning chill. Then he starts to smile.
"Two years I have been in Australia and there was nothing," he says. "We had no permission to work, we could not go to school … all I could do was stay at home."
Like thousands of other asylum seekers who came by boat after August 2012, Mr Ali has been under visa conditions that stopped him from getting a job and restricted him to a fraction of the dole, $31 a day, scarcely enough for rent. Days stretched into weeks, months into years.
But this morning, his first day back on the tools, the Pakistani Hazara is standing tall, surveying the construction site where he will be working as a brickie.
"I am bricklaying the fences here," says Mr Ali. "Soon I will hopefully have bigger projects and can do a complete house."
Australia's strict visa rules that have forced asylum seekers to live in destitution are now being relaxed, with the federal government rubber-stamping new work approvals in numbers not seen for years.
Statistics obtained this week reveal a staggering 22,800 asylum seekers between January and September have been granted eligibility to start earning a living.
"In the same period last year, large numbers of illegal maritime arrivals remained in detention," a Border Force spokeswoman said.
"Many were released on Bridging Visa E without work rights. A total of 62 had work rights."
Of 25,000 boat arrivals now living in the community on bridging visas, more than 24,400 can now work.
Migrant resettlement service AMES said more than 2000 asylum seeker clients had  received work rights, up from 350 in February.
"Work is not just about a pay cheque, it is a source of pride, self-reliance, improved health and sense of self-worth," chief executive Cath Scarth said. "It gives structure and meaning to people's lives and it is the fabric from which our society is wrought."
The rush of new work approvals follows the federal government lifting a stay on processing asylum seeker protection claims and has begun a "fast-track" processing system.
But the controversial system has also drawn criticism from legal groups, which say it could lead to legitimate asylum seekers being sent back to persecution in their home countries. Asylum seekers will have a single opportunity to make their claim to the department and face more stringent limits on their right to appeal a negative decision.
Asylum Seeker Resource Centre chief executive Kon Karapanagiotidis said the government was "giving with one hand while taking away with the other".
"While it's positive that people seeking asylum in our country have the right to work again, it comes after a long period where they were left without the ability to support themselves or their families," he said. "Now they face the prospect of only being eligible for temporary protection from the war, violence and persecution they have escaped in their home country."
The Brotherhood of St Laurence, which runs an asylum seeker employment program, has reported a "three-fold increase", with 275 referrals between April and June. Spokeswoman Farah Farouque said the program was experiencing a "flurry" of new asylum seekers eager to work and contribute to society.