By Shereena Qazi
Hundreds demonstrate in city of Ghazni after seven Hazara found with their throats cut in alleged killings by ISIL.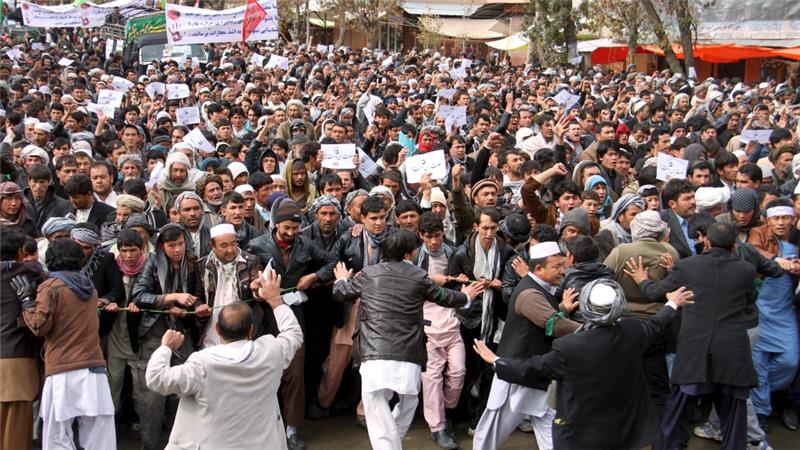 Hundreds of protesters have taken to the streets of Afghanistan's provincial city of Ghazni to demand justice for last week's beheading of seven members of the Hazara ethnic group. 
The demonstrators chanted "death to Islamic State" on Tuesday as a van carried the coffins, covered by Afghan flags, of the seven Hazara.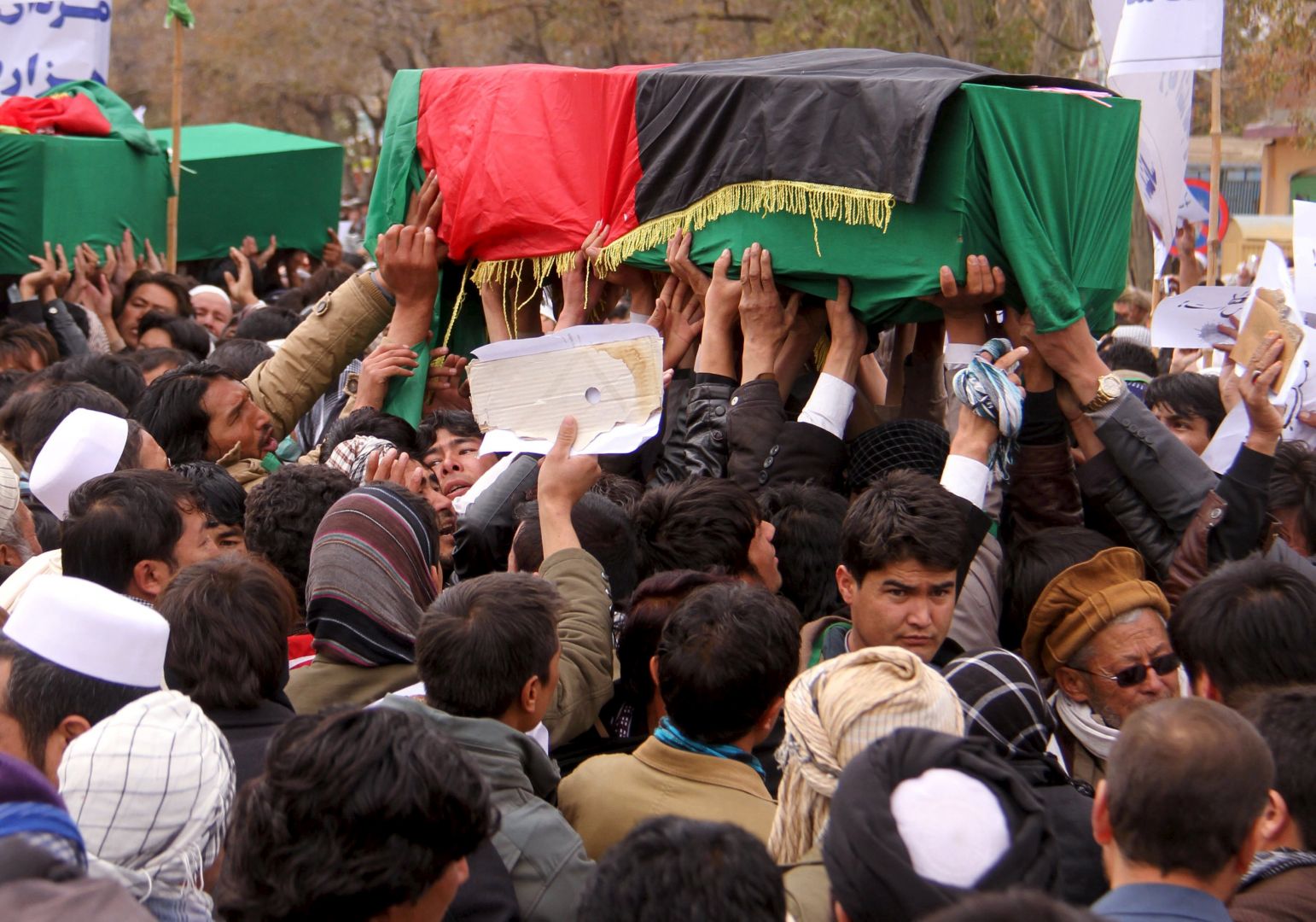 The victims, including three women and two children, were found with their throats cut on Saturday. The Afghan police has blamed the Islamic State of Iraq and the Levant (ISIL) for the killings.
"We want justice not just for them, but for the thousands other innocent people who are brutally killed this way, almost every day," protester Ismail Khanjar told Al Jazeera.
"We don't care if they were Shias or not, for us they are human and they were killed in the most brutal way. What was their fault?"
Another protester told Al Jazeera that the bodies would soon be transported from Ghazni to the capital Kabul for a demonstration planned for Wednesday near the presidential palace.
"We are going to protest in Kabul tomorrow," said Amanullah Kamrani. "We won't back down until we get answers and better security."
Hamidullah Nawroz, a member of Ghazni's provincial council, also took part in the protest.
"We demand security from the Afghan National Unity Government for people of all communities throughout the country," he said.
"We will keep protesting until we are sure that our families are protected."
According to Afghan officials, the Hazara hostages were captured by ISIL fighters more than a month ago, and were held in the Arghandab district in Zabul Province.
Their throats were cut with metal wire and their bodies were discovered by the Taliban who handed them over to local elders who then helped in transfering them to a hospital.
The Hazara have long suffered oppression and persecution in Afghanistan. During the 1990s, thousands were massacred by al-Qaeda and Taliban fighters. 
Sayed Zafar Hashemi, deputy spokesman of President Ashraf Ghani, told Al Jazeera that the security threat affects the entire nation and not any specific community.
"We are doing everything we can to help protect our people," he said.
Afghanistan comprises of several ethnic groups that include Tajiks, Hazaras, Uzbeks and Turkmen, mainly in the north and west, as well as Pashtun, located primarily in the south and east.
ISIL emerged in Afghanistan last year, but Afghan officials believe the group is aided more by splintering factions of the Taliban.
Months after the death of Mullah Omar, a Taliban splinter group who call themselves the High Council of Afghanistan Islamic Emirate, announced last week that it had elected its own leader, defying Omar's appointed successor as leader, Mullah Akhtar Mansoor.
Violent clashes between two rival Taliban groups in southern Afghanistan erupted on Sunday, resulting in the death of at least 50 fighters from both sides.
In this article