Fatima Shafaie's work with refugees is an example for Australians to follow.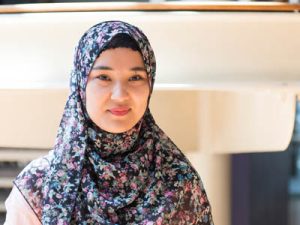 As a child, Fatima Shafaie used to lay out newspapers at home and read them like a newsreader. "It was a very unconscious thing," she recalls. "I just did it because I liked it." It's fitting that she's now immersed in current affairs and governance for a Bachelor of Communication in Journalism and Law degree at UTS.
"They are very different, yet they balance each other out," she remarks of the subjects. Journalism is very practical and on-the-go, while Law is more thought provoking: "we do a lot of discussions, analytical thinking and arguing about laws."
Born in Afghanistan, Shafaie moved to Iran and Pakistan with her family as refugees at a young age. She came to Sydney on a humanitarian visa in 2007 sponsored by her father, who arrived by boat a few years earlier. Members of her extended family in Pakistan are still being targeted due to their ethnicity and religion, she explains. "I consider myself quite lucky. I came here as a very young teenager, so I've had opportunities that other people may not have."
A passionate social justice advocate, Shafaie is making an impact in the community. She is a youth leader of Afghans Unite!, a project striving to end prejudice and bullying among young Australian Afghans. It opens a dialogue to promote harmony between youth from different Muslim denominations and teaches them media skills to spread the message. She also volunteers at Refugee Advice & Casework Service.
"I'd like to follow the footsteps of everyday people who try to make a change," she says. Former Justice of the High Court of Australia Michael Kirby; lawyer and Islamophobia Register Australia creator Mariam Veiszadeh; and Amal Clooney are cited as examples. "They're individuals in their own field and do things a little bit outside the mainstream, yet they make a lot of impact."
Shafaie is a recipient of the Ezekiel Solomon Scholarship, awarded to UTS Law undergraduate students who demonstrate initiative and require financial or educational assistance. It is an integral part of the Law Faculty's commitment to ensure excellent students from diverse backgrounds have access to quality legal studies.
"Despite having come from a low socio-economic background, my dad has always been supportive of our education," she says about her family. An older sister who completed a vision science degree is now working in optometry and pursuing a master's degree. Nevertheless, money is always a concern.
"The one major thing that the scholarship has done for me is to boost my confidence. I can focus on other things like how to enhance my skills, and how to search for internship opportunities," Shafaie explains. It enables her to pay for textbooks and law books, and access technology for her studies. Being able to purchase appropriate attire to confidently apply for internships at high-tier firms has also eased the pressure.
As the final fifth year of the degree approaches next year, Shafaie is torn between which path to take. She's considering the ABC and SBS for media; and to gain law experience she's currently working as a migration agent assistant. "I'm confident enough to go and work independently, so I feel like this has given me a very good base." she says.
Story by Amos Wong
Photography by Kevin Cheung
Source: www.alumni.uts.edu.au