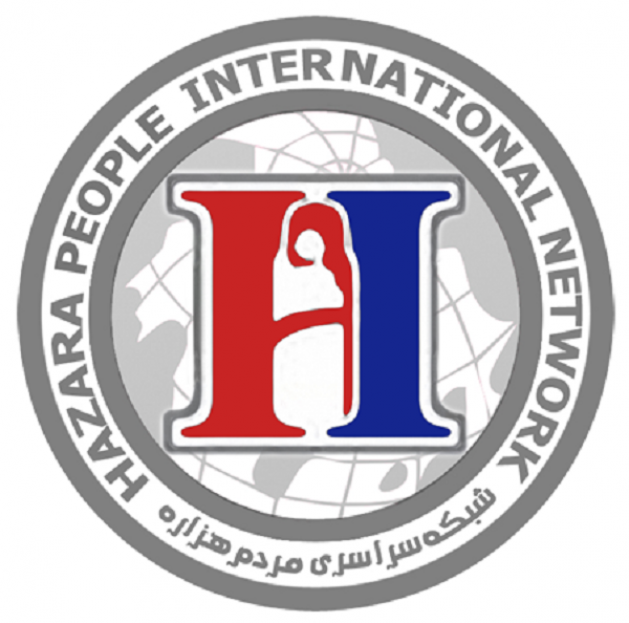 Hazara International: Jafar Ataie a British Hazara activist was bitten beaten up by Afghan President's bodyguards in the heart of the UK, when he objected to injustice and discrimination in Afghanistan, interrupting Afghan president's speech at RUSI conference hall in London.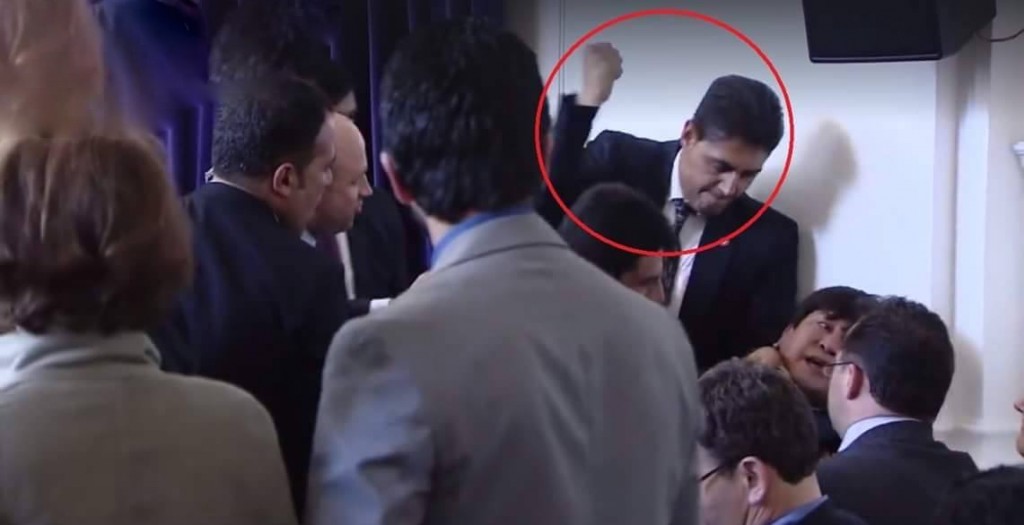 Just an instant before Jafar Ataie, Ahad Bahadori, another British Hazara activist present in the hall, stood up in front of Afghan President and called him "a liar" while Mr. Ashraf Ghani was boasting on accomplishments of his government. When Bahadori was expressing his opinion regarding corruption and injustice in Afghanistan and defending his position, he was grabbed away by the Afghan president's bodyguards and was violently thrown out from the conference hall.
It was not only them, but three more British Hazara activists, Bilal Nowrozi, Rahila Muhibi and Esmat Ameen were all forced to leave the conference hall, as they had objections on discriminative plans of the Afghan Government especially regarding recent TUTAP project.
What these Hazara activists wanted in this conference was just to show the international community the hidden layers of corruption in the Afghan government, as well as the existing racial discrimination, unfair distribution of the resources, unbalanced reconstruction and bias in the allocation of foreign aid funds in Afghanistan.
They objected Mr. Ghani for his repeatedly unfair treatments especially with the Hazara citizens and other minority groups of Afghanistan.
While the UK is hosting the international annual event of Anti-Corruption Summit 2016 with the presence of the most corrupt politicians of the world such as Mr. Ashraf Ghani in this summit, hundreds of Afghanistani citizens including British Hazaras gathered in London to demonstrate in the favor of TUTAP via Bamyan.
 TUTAP is a project of 500 KV imported electricity power line, that was originally planned to be passed via Bamyan, but the cabinet of Ghani government decided to change its route through another province, that caused the rage of Bamyani citizens who are mostly Hazaras and are deprived of electricity.
These days, there have been numerous demonstrations throughout Afghanistan to defend TUTAP via Bamyan.
Bamyan, a UNESCO heritage and as one of world's creative cities, does not have electricity power yet, while the passage of TUTAP through this province could help not only the progress of the local economy of the residents, but also it can activate the two important mines of Afghanistan, that are located in this province; Haji Gak iron mine and Kahmard coal mine which could bring a huge amount of income to the treasury of the government.
These days, Afghanistan is expectant of new happenings as pro TUTAP via Bamyan demonstrations pervade in different cities day after day that could turn the page of this history of this country. In these demonstrations not only the grassroots but also numerous politicians have jointed the movement.
The new born movement, which is named Lightening Movement after TUTAP demonstrations, could even be considered a revolution against injustice and unfair governance in Afghanistan, considering its huge number of followers and supporters. It was simply started by the sparks of demonstrations in favor of TUTAP via Bamyan but now, it's too big to be stopped or collapsed, as it seems.
 The United Kingdom Has to Assure the Security of its Hazara British Citizens
After what's happened today to five British Hazara activists in London, Hazara International  is really concerned about such violence and condemns the act of violence accomplished by the bodyguards of the Afghan president.
Based on the UK Bill of Rights in the constitution, freedom of speech is guaranteed for every British citizen, and the act of violence by the Afghan presidents' bodyguards is not only a clear violation of freedom of expression in the UK but it could also be considered an evident act of violence.
On the other hand, the main reasons for the Hazaras to flee their homelands are racial discriminations, unfair treatments, violence, death threats and even massacres they face in their motherland; therefore they seek democratic safe lands far from threats in which they could live with equal rights and opportunities without fear of persecution and death threats.
 Therefore, Hazara People International Network is asking kindly the British Government, and the London Police for a thorough investigation on the physically violence conducted by the Afghan President's bodyguards against five British Hazara activists in London.
It is now in the hand of UK government and the London Police, how they defend the violated rights of their Hazara British citizens by implementing law, and how they protect them in the future.
In this article