By MUJIB MASHAL, ZAHRA NADER and JAWAD SUKHANYAR
KABUL, Afghanistan — One after another, the bodies arrived on the steep hill in western Kabul.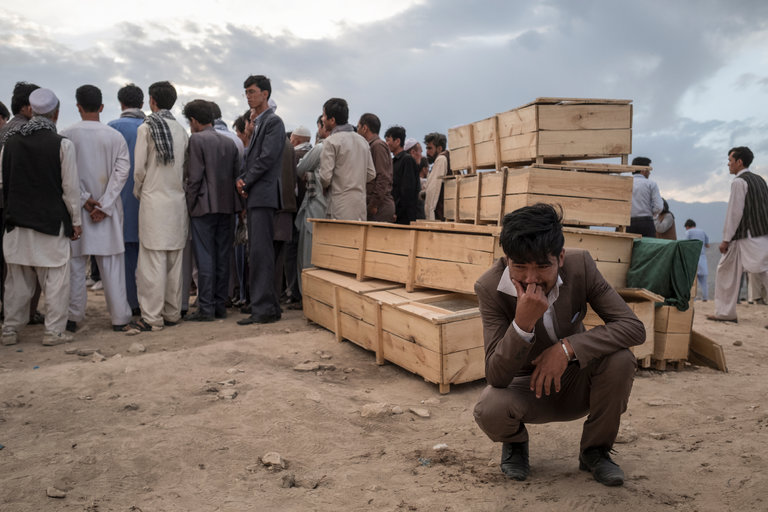 For much of Sunday afternoon, an excavator was flattening the dusty area as men with shovels and pickaxes dug graves — four rows of 20 or so, packed so close that if the dead could stretch out their arms, they would touch those next to them.
In the hours that followed, nearly two dozen of the at least 80 protesters killed in a bombing claimed by the Islamic State on Saturday were buried here, in overlapping ceremonies that blurred into one large scene of public mourning. As the final prayer for one body lowered into a grave was being recited, dirt was shoveled onto another body at the next.
"Oh, brothers, slow! Slow!" one mourner at the grave of Muhammad Hassan, a 25-year-old construction worker killed in the bombing, urged the men piling dirt over the next grave. Dust covered the white turban of the mullah who crouched over Mr. Hassan's headstone, reading from a little book of prayer.
The attack on peaceful protesters in Kabul — who were mostly from the Hazara ethnic minority — stirred an international outcry, in part because it was the first time that the Islamic State's leadership in Syria had claimed responsibility for such a deadly strike in Afghanistan.
But some here voiced skepticism that the terrorist group, whose fighters in Afghanistan are concentrated in the east, was behind it. The detail hardly seemed to matter to others, who see the bombing as another in a long procession of attacks born of a chaotic and unending war. Many of the mourners burying their dead on the hill, or continuing their protest near a convention center, bitterly accused the Afghan government of failing to protect its people no matter the threat.
The protesters on Saturday were marching to demand better services and infrastructure for Hazara areas of Afghanistan. Instead, they joined a long list of Hazaras victimized because of either religious differences or political affiliations. They have long been treated as second-class citizens, were hunted by the Taliban regime and, over the past year, increasingly targeted by Afghanistan's offshoot of the Islamic State because of their Shiite beliefs.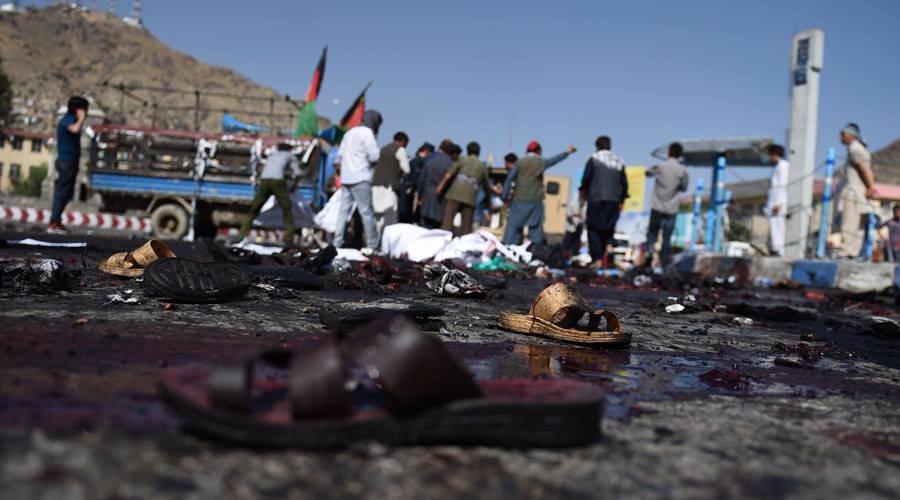 The stories of many of the victims spoke to a cycle of violence that continues to disrupt Afghan lives across generations.
Mr. Hassan, buried in grave No. 4, had lost his father to Afghanistan's Communist government when he was a child, said his uncle, Hajji Muhammad Safi Jaffary, who raised him. Now, another act of violence deprives Mr. Hassan's children, a 5-year-old boy and an infant girl, of their own father.
"I feel the scar of my brother, and now this," Mr. Jaffary said. "I loved him more than my own children. I lost my spine."
Sharif Doulatshahi, an Education Ministry employee, was killed at almost the same age that his father was when he died — in his 30s. Mr. Doulatshahi and his brother were raised by their single mother, and he leaves behind his wife and a young daughter.
Families also spoke of painful searches before they could find the bodies of their loved ones at Kabul hospitals overwhelmed by the attack's toll.
Late into Sunday, Muhammad Daud and his family were still looking for his cousin Aziz Muhammad, a 27-year-old graduate student in international law who had participated in the protests. They had searched at least four hospitals with no luck.
"At the 400-bed hospital, they took us to a pile of human flesh stuffed in sacks and told us to look for him," Mr. Daud said. "It was not possible to find him in those sacks."
Naweedullah Bahadur, 22, was a student of dentistry at Kabul University, his cousin Zabihullah said. Mr. Bahadur's family searched for his body until 2 a.m. Sunday with no luck. When his relatives resumed their search the next morning, they found a photo of him among a pile of pictures on a hospital table for families to identify. He had wounds in the back of his head, as well as his forehead.
Mr. Bahadur was an avid soccer fan and player, though his friends gathered at his grave disagreed about whether he had rooted for Arsenal or Real Madrid.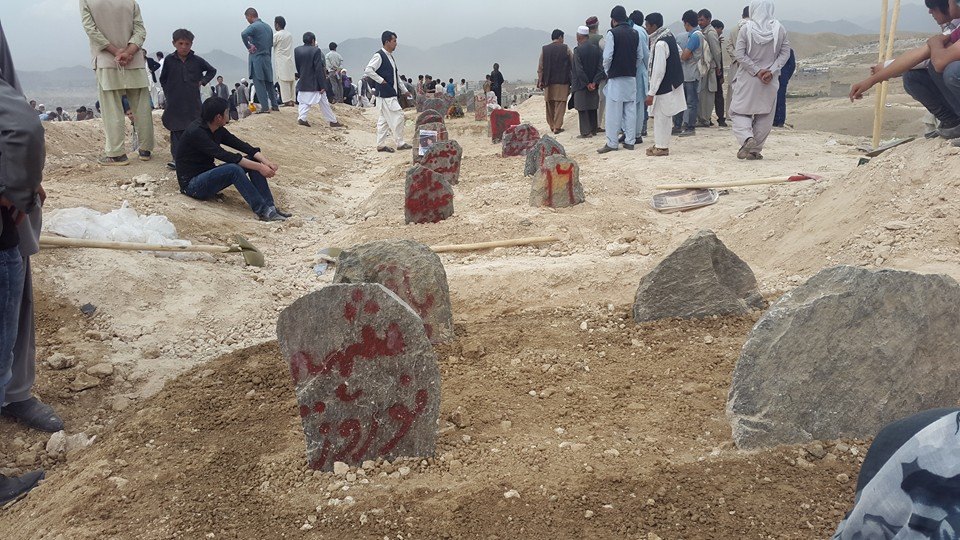 "We were waiting for him at the field last night," said his friend Hajji Yaha, who played soccer with him three times a week. "We called 20 times — no answer."
When his coffin was taken home for a brief visit before the burial, Mr. Bahadur's devastated mother smashed her forehead against it and dropped unconscious.
Before arriving at the hilltop, most of the bodies made a stop for a funeral prayer at a convention center in western Kabul. Much of the continuing antigovernment protest, cleared overnight from the roundabout where the bombing occurred, had shifted to the convention center also.
The protest's central point was to demand the routing of an electricity line — and, with it, roads and infrastructure — through Bamian Province, a Hazara-dominated region in central Afghanistan. After trying for weeks to head off the demonstration, insisting that more services had been routed to Hazara communities over the past year, President Ashraf Ghani's government allowed the march to proceed on Saturday. Still, officials said they saw the protesters as being manipulated by the political opposition.
As the demonstration continued at the convention center, emotions ran high, with anger expressed at Mr. Ghani's government, and at an older generation of Hazara leaders they felt had betrayed them to strike deals with the government and abandon the protest at the last minute.
When a member of Parliament associated with the older generation of Hazara politicians arrived, the windows of his vehicles were smashed, and he quickly left.
On the hilltop, men of all ages continued to dig graves as the bodies arrived. Headstones, each bearing the name and grave number of the victim scribbled in red ink on both sides, were unloaded from vehicles and carried on people's backs up the hill.
The mullahs struggled to make time for all the final prayers. Khadim Hussain Hassany said he had performed the final prayers for five victims, while Naser Mahdawi had performed three.
Ahmad Jawad, a 20-year-old worker at an electronic store, said he had barely missed the explosion during the protest. After posing for a photograph with his friends, he had walked to the side to help set up a protest tent.
"All those friends in the photo — they were all martyred," he said, taking a break from digging graves for them.
In this article